All Upcoming Shows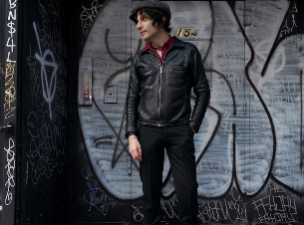 Few in the modern musical landscape have reinvented themselves like Jesse Malin. Revered by iconic figures from Bruce Springsteen and Joe Strummer to Ryan Adams and Jim Jarmusch, Malin's songwriting has shape-shifted through decades and genres and left an indelible mark on hardcore, punk, folk, and everything in between.
Produced by songwriter Joseph Arthur, Jesse Malin's new EP Meet Me at the End of the World (June 30 / Velvet Elk) aims his singular blend of gritty street poetry and incisive self-reflection squarely at our troubled, modern times. (The title track has already been named 'Coolest Song in the World' on SiriusXM's Underground Garage.)
"The songs were written on tour looking out the van window," reflects Malin. "We were driving around America just watching the frightening and embarrassing ascension of the current administration amidst a really dark and manipulative international media blitz."
The music was recorded fast and raw with Malin's live band: drummer Randy Schrager (Scissor Sisters), bassist Catherine Popper (Norah Jones, Ryan Adams), and longtime sideman/producer/cowriter Derek Cruz. The collaboration with Arthur was initially intended to be a one-time affair for Malin's Positive Panther charity, which raises funds for his former European merch-seller Nathalie Baverstock in her fight against cancer, but the two songwriters discovered a natural kinship in the studio. "It's not unusual for Jesse to be writing great songs, but it feels like there's a new energy to it right now," adds Joseph.