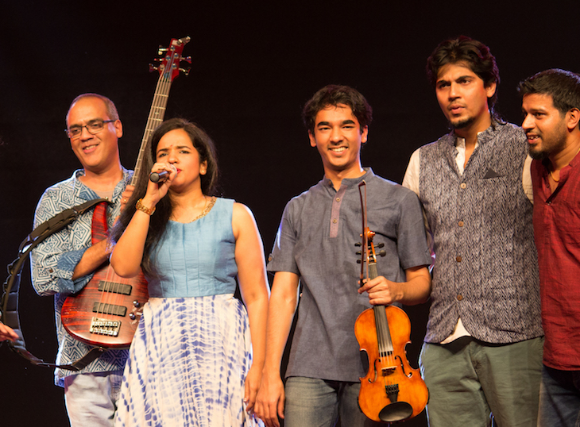 Formed by singer/songwriter Bindu Subramaniam ("third generation prodigy" – The Hindustan Times) and violinist/composer Ambi ("the new king of Indian classical violin"- Times of India), SubraMania performs contemporary world music by fusing traditional Indian music with elements of pop, rock and jazz. It has built on a multi generational musical tradition, but with a sound that is distinctly it's own.
Both Bindu and Ambi are established solo performers, with awards, hundreds of stage performances and multiple albums to their credit. They decided to create SubraMania, as a new voice for contemporary world music, and the music video for their first release "Days in the Sun" had over a million views on Facebook.
SubraMania has performed across Europe, the U.S. and in India, including a January 2016 tour of Spain, Belgium and the Netherlands, in venues from concert halls to festivals, clubs, corporate performances and major college events. They have collaborated with Grammy winner Hubert Laws, Grammy Award winner Ernie Watts, tuba virtuoso Oystein Baadsvik, Blues harmonica legend Corky Siegel, Flamenco guitarist Carlos Blanco, Bollywood music director Aadesh Srivastav for his Global Sounds of Peace project, Indi-pop legend Lesle Lewis and American Idol drummer Russ Miller.
Bindu and Ambi also run the Subramaniam Academy of Performing Arts, and the SaPa in Schools program, which teaches music to children as part of school curriculum to over 10,000 children. They are also closely involved with the philanthropic activities of the Subramaniam Foundation, started by their parents ("Paganini of the Indian Violin") Dr. L. Subramaniam, and Kavita Krishnamurti Subramaniam, (Bollywood vocal star, with 16xPlatinum, Diamond, and Royal Platinum record releases).
Hailed as "the new king of Indian classical violin" (The Times of India), Ambi regularly plays duet violin concerts with Dr. L. Subramaniam and solo concerts. He has performed at the prestigious Dussehra Festival at the Mysore Palace, the Menuhin Festival in Gstaad, the Lincoln Center Out of Doors Festival, the Jay Pritzker Pavillion in Chicago, the Royal Festival Hall in London, the Maximum India Festival at Kennedy Center, the Royal Opera House, Muscat, and at the Centenary Celebration of the Banglaore Gayana Samaj. Ambi was a featured soloist for the Sounds of India program featuring talented instrumentalists from around the country. Ambi has been invited to perform at TEDx events to expose new audiences to Carnatic music, and at age 13 was invited to present a concert for the then President of India HE APJ Abdul Kalam for the Pravasi Bharitiya Divas. He has performed with Dr. M. Balamuralikrishna and Pandit Hari Prasad Chaurasia.
Ambi Subramaniam gave his first performance at the age of seven, and has received the Ritz Icon of the Year Award, the Rotary Youth Award, two GiMAs (Global Indian Music Award for Best Fusion Album and Best Carnatic Instrumental Album) and Big Indian Music Award (for Best Carnatic Album).