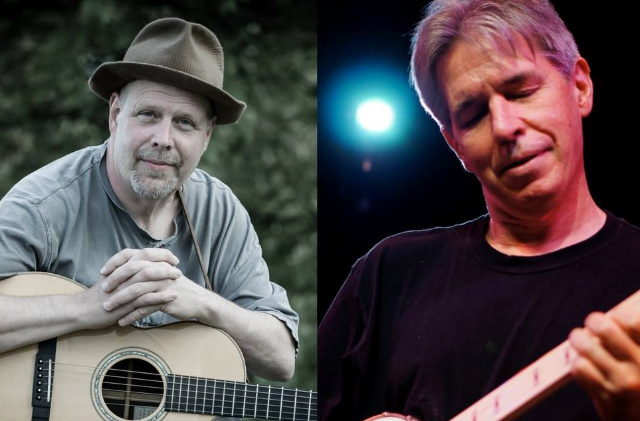 ERIC LUGOSCH & MICHAEL J. MILES: Second Annual Acoustic Explosion!
Chicago is home to two world renowned acoustic musicians: Eric Lugosch on fingerstyle guitar and Michael J. Miles on clawhammer banjo. Colleagues for decades, they had never played in concert together until last year, when for the first time ever, they delighted a packed house at SPACE with their dazzling musicianship and their entertaining stories. Join us for the second annual event!
ERIC LUGOSCH
National Fingerpicking Champion Eric Lugosch is one of the most inventive fingerstyle guitarists in the world. With annual tours to guitar festivals in Europe and guitar workshops at home and abroad, Eric's work has been praised by audiences and critics alike. Eric's musical depth is marked by respect of tradition and uncompromising originality that ranges from American ragtime, blues, gospel and jazz.
"Eric strolls into the home turfs of folk, blues, pop and jazz, shepherding contradictory impulses into harmonic bliss like a global peacekeeper"
- Justin Hayford, Chicago Reader
MICHAEL J. MILES
Michael J. Miles is one of America's most innovative clawhammer banjo players. His musical background is steeped in the folk & blues of Chicago, in J.S. Bach and Motown, rock and roll, and the American Songbook. With an expansive unpredictable repertoire and high-reaching musicality, his work is described by Banjo Newsletter as "a brilliant tour-de force that effectively obliterates the limits of what was thought possible on clawhammer banjo." Or as Pete Seeger said when he first heard Michael's playing, "This is enough to make me want to learn the banjo all over again."
"Genius...in a musician's paradise, the viral videos would be artists like Michael J. Miles playing his banjo."
- Lin Brehmer, WXRT