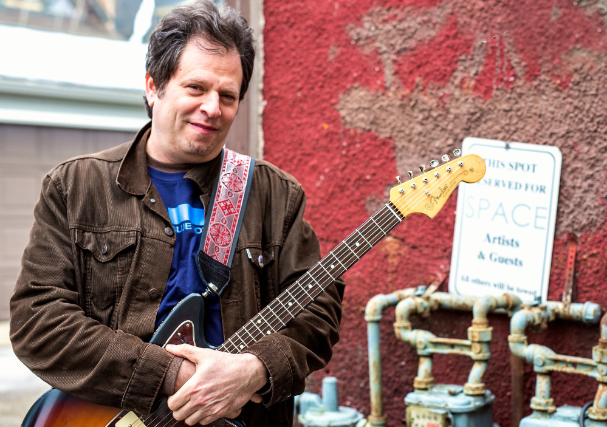 BLUE MONDAY...ON A TUESDAY!
Different day, same series—featuring Dave Specter and sponsored by Egan's Irish Whiskey!
"Deeply satisfying, incendiary guitar playing" - Chicago Tribune
Blues guitarist, bandleader and producer Dave Specter has earned an international reputation as one of the premier talents on the Chicago blues scene. Since 1985 Specter has performed regularly at top Chicago blues and jazz clubs in addition to festivals and concert halls throughout the USA, Canada, Europe, South America and the Middle East.

A first-tier blues/ jazz guitarist, Dave Specter, whether working solo as a bandleader or as a sideman for artists like Johnny Littlejohn or Son Seals, has always brought intelligence and sharp, crisp playing to the music table, a sort of contemporary version of T-Bone Walker. Born on Chicago's northwest side on May 21, 1963, Specter didn't pick up the guitar until he was 18 years old, but once he did, he never looked back. Early on he worked as a support player for Littlejohn, Seals, and the Legendary Blues Band before starting his own group, the Bluebirds, in 1989. Signing with Delmark Records, he released a debut album, Bluebird Blues, on the imprint in 1991, featuring vocals by Barkin' Bill Smith(Specter is not a vocalist), following it with Blueplicity (this time with vocals from harmonica player Tad Robinson) in 1994 and Live in Europe (again featuring vocalist Robinson) in 1995. Lynwood Slim handled vocals for 1996's Left Turn on Blue (which featured legendary jazz organist Brother Jack McDuff on the Hammond B-3), with Lenny Lynn taking over vocal duties on 1998's Blues Spoken Here. For 2000's Speculatin', Specter abandoned having a singer at all, issuing 13 instrumental tracks. Vocalist or not, Specter's guitar playing can more than carry a song or a gig, or even an album, and respect for his playing had become universal in the blues community, even as he has moved further into jazz territory. Is What Is appeared in 2004, followed by Live in Chicago (a DVD of the same show was also issued) in 2008, all on the Delmark imprint. For 2014's Message in Blue, which featured Otis Clay, Brother John Kattke, and Bob Corritore, Specter mixed guest vocal tracks in with instrumental tracks, all with his signature, swinging guitar style.