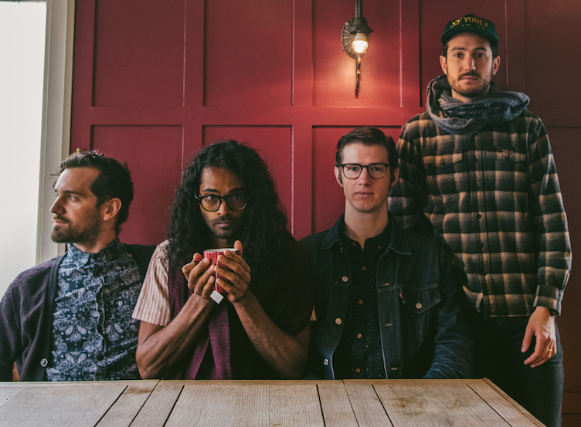 The word "extraordinary" is defined as something beyond, amazing, or incredible. The word "extralife" doesn't exist. But in the world of Darlingside—another previously non-existent word—it's all about invention, expansion, and elevating everything into the realm of the extraordinary both conceptually and through musical performance.
The band's new album Extralife intensifies the journey begun on its critically acclaimed 2015 album Birds Say. On that project, Darlingside's quartet of bassist Dave Senft, guitarist/banjoist Don Mitchell, violinist/mandolinist Auyon Mukharji, and cellist/guitarist Harris Paseltiner fused assertions ("Go Back"), assumptions ("God Of Loss"), predictions ("The Ancestor"), projections ("Do You Ever Live?") and reflections ("White Horses"). "We put our four heads together and created this collective consciousness about bits and pieces from our past and how we saw the world based upon reminiscences," explains Paseltiner about that sojourn. It having been the Massachusetts group's second full-length outing, Birds Say mastered a musical and lyrical path that led to the more challenging territory explored on Extralife. Mukharji describes the "Extralife" concept as "…a life beyond where we are now, whether that's a brand new thing, a rebirth, or just a new version of ourselves as we move forward." So by abandoning Birds Say's nostalgia and its tales of "what once was," Darlingside created its polar opposite with Extralife, the new album exploring "what is now" and "what might be" simultaneously in the brave new world.
"A lot of the album has to do with the present and the future," Mukharji reveals, "that future being a completely unknown quantity and the present being a new and bizarre place to be living in. I think we're grappling with a number of aspects of reality we had not expected." That reality, surviving a dystopian landscape, constructs the new album, the band killing many of its prior darlings (the name Darlingside being a reference to non-attachment) in the process. Their Birds Say, wide-eyed innocence is now bloodshot for the better. As the title track "Extralife" informs in four-part harmony, "It's over now / The flag is sunk / The world has flattened out," it loosely sets the new album's premise. However, the recording also delivers hope through Beach Boys-inspired vocals that contrast with lyrics such as "The fiery flower beds above / Mushroom clouds reset the sky." "Eschaton" uses a similar formula, this time immersing its Waterworld imagery in fun, fluid synthesizer runs, concluding with the rally, "No matter what we've been / We are the upshot now." Its axis-flipped, Escher-mimicking lyrics sketch a variation on the End Times that suggests it's actually preventable. Even the "Taps"-inspired trumpet mourn and harmonica cries of "Hold Your Head Up High" are held at bay by the uplifting, anthemic chorus chants of the song title's message.