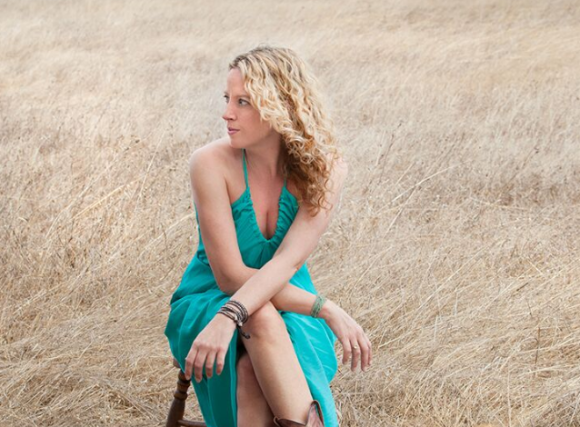 Although the personally charged, organically soulful Didn't It Rain is her first release under her own name, Amy Helm has been making music for most of her life. She's already won widespread praise as a singer, songwriter and live performer, first as a member of the celebrated alt­country collective Ollabelle and subsequently for her extensive work with her father, musical icon Levon Helm, who passed away in 2012.
Blessed with a commanding, deeply expressive voice and an uncanny songwriting skill that instinctively draws upon a deep well of American musical traditions, Amy Helm delivers a timelessly powerful statement with Didn't It Rain.

The spellbinding dozen­song set is rooted in first­person experience, exploring universal themes of life, love and loss on such musically and emotionally resonant originals as the smoldering soul ballad "Rescue Me," the hushed, lilting "Deep Water," the meditative "Roll Away" and the stark, haunting "Wild Girl." Complementing Helm's originals are her personalized takes on the Sam Cooke classic "Good News" and the traditional title track, which she delivers with the heartfelt gospel urgency that's always been an element of her vocal persona.

Accompanying Helm on Didn't It Rain is an impressive roster of players and singers that demonstrates the esteem in which the artist is held by her peers. Helm's former Ollabelle bandmate Byron Isaacs, who produced the album, co­wrote the majority of the songs with Helm, and is featured as one­third of Helm's current live trio the Handsome Strangers, playing bass alongside guitarist Daniel Littleton and drummer David Berger. Also contributing their talents are Little Feat keyboardist Bill Payne; guitarists Larry Campbell, Chris Masterson and Jim Weider; keyboardists Marco Benevento, John Medeski and Brian Mitchell; and guest backup vocalists Carolyn Leonhart, Elizabeth Mitchell, Allison Moorer, Catherine Russell and Teresa Williams.

Didn't It Rain also marked the final recording sessions of Levon Helm, who acted as the project's executive producer as well as adding his unmistakable drumming on three tracks; Levon's distinctive count­off can be heard kicking off Amy's rousing take on Martha Scanlan's "Spend Our Last Dime."

Amy Helm began connecting with audiences early in life, playing her first gig in her early teens in a Manhattan bar and drifting informally through a series of combos before her father recruited her to join his live band. She also absorbed musical and personal inspiration from her mother, noted singer/songwriter Libby Titus; and her stepfather, Steely Dan co­mastermind Donald Fagen, who offered Amy additional opportunities to find herself as a performer.

Amy's vocal and songwriting talents soon found a home in the New York­ based Ollabelle, whose three acclaimed albums and countless live gigs saw her evolve into a confident, charismatic performer. She also resumed her musical collaboration with her father, singing and playing in his band, playing on and co­producing his Grammy­ winning 2007 comeback album Dirt Farmer, and helping to organize the now­legendary Midnight Ramble concerts at Levon's home studio in Woodstock, NY.