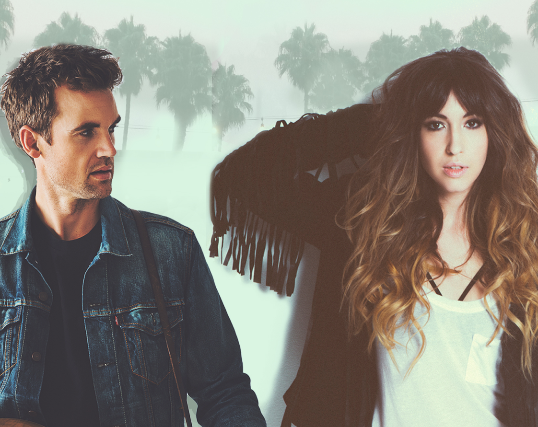 Kate Voegele
Kate Voegele first picked up a guitar at age 15. Influenced by the rock and roll history of the city and her father's songwriting, she began to pen her own songs from the minute she learned to play her first three chords. Voegele embraced this newfound passion, recording her first EP during her freshman year of high school, and soon after landed gigs alongside artists like Counting Crows and John Mayer. Those shows quickly led to attention from labels in New York and LA, and Kate spent the majority of her high school years diving headfirst into a career in music.
In spring of 2007 Voegele finished recording her first full-length record with Marshall Altman in LA and decided to swap her text books in for a tour bus and a year full of shows throughout the US.
Over the next couple of years Voegele toured the country playing hundreds of shows. While traveling through LA, Kate auditioned on a whim and would eventually land the role of Mia Catalano on the CW show, "One Tree Hill." What was supposed to be a two-episode run became a four-season recurrence, and Kate found herself performing eleven of her original songs to millions of viewers over the course of the show. Record sales jumped dramatically after Voegele's first appearance on the show, and she was subsequently upstreamed to Interscope Records in January of 2008.
After her first two records sold over 500,000 units, Voegele signed with ATO Records in 2011, releasing "Gravity Happens." In fall of 2013, Voegele moved her home base from LA to Nashville, getting back to her songwriter roots. In November '14 Voegele released the "Wild Card" EP, which debuted in the top 10 on the top pop albums chart on iTunes
Kate released her fifth full-length record, "Live In London", in the fall of 2015. Kate's latest effort, "Canyonlands" was released to critical acclaim in November of 2016.
Tyler Hilton
Tyler Hilton was singing and playing in coffee houses as a 15 year old, when a chance encounter with Los Angeles radio personalities Mark and Brian from KLOS led to multiple appearances on their radio show, live concert dates with the duo, and national exposure. He released his first album independently shortly thereafter, which led to major label interest and eventually signing to Maverick/ Warner Records where he released "The Tracks of Tyler Hilton" which garnered two singles on the Billboard Top 40 charts. While on tour promoting the album, Tyler was cast as his child hood hero Elvis Presley in "Walk the Line" where he worked with T-Bone Burnett on the soundtrack, and for which he received a gold record.
An opportunity to sing on TV's "One Tree Hill," a notorious breeding ground for new musical talent, led to a series long run, several appearances on MTV's "TRL" with the cast, and a national tour with Gavin DeGraw and Michelle Branch who also sang on the show. Taylor Swift admitted to being a fan, and asked Tyler to star in her music video "Tear Drops on My Guitar" which became a huge crossover hit. The two appeared together live several times and later Tyler appeared via interactive video on her stadium tour.