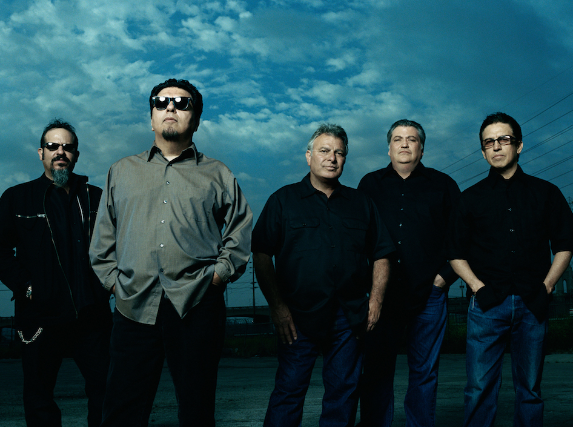 ARTIST BIO
If Los Lobos has learned one thing in nearly four decades together, it's that playing by the rules is not for them. They tried it for a while, said no thanks, and they've been better for it ever since. The 20th anniversary re-release of Los Lobos' landmark Kiko album by Shout! Factory on August 21—bursting with bonus tracks and a live DVD in addition to the original album—serves as a potent reminder of why going rogue was the best thing this legendary American quintet ever did.
By early 1992, prior to making Kiko, Los Lobos—David Hidalgo, Cesar Rosas, Conrad Lozano, Louie Pérez and saxophonist/keyboardist Steve Berlin—was wrapping their second decade together, coming off a five-year period of newfound massive commercial success but lost creatively. Their 1987 remake of Ritchie Valens' classic "La Bamba" for the soundtrack of the same name earned the band a number 1 smash on the Billboard charts, and the following year's La Pistola y El Corazón, which found the band revisiting its Mexican folk roots, was also highly regarded. Then things went south.
"To a certain extent I guess we didn't really trust ourselves," says Berlin, who joined the four founding members in 1984, some 11 years after Los Lobos' formation. "We weren't totally confident as a band in our own ability to say fuck this, we're going to do it this way and we don't care what anybody says. We'd had 'La Bamba' and La Pistola, and it was all great but there was a lot of expectation surrounding the next record."
That next record turned out to be 1990's The Neighborhood. The band didn't have much fun recording it, compromising in the studio and embarking on a grueling large-scale tour with buses and a lighting rig, rather than simply hopping in their van and driving from gig to gig. The tour lost money and Los Lobos was left without a clue as to what they wanted to do next.
Reconvening for the next record, busted but not broken, the band decided to ignore everyone else's advice and try a new way of recording: their way. Feeling they had nothing to lose, they forged ahead into new territory.
Prior to Kiko, Los Lobos had been "segregating our influences, treating them parochially," as Berlin puts it: a rockabilly tune here, a Tex-Mex there, some folk, a bit of country, an R&B tune, plenty of classic rock. This time, they decided to take all of those myriad influences out of their separate boxes, toss them into the air and let them fall where they might. "Whatever our unconscious minds' response was to the stimuli, that was what we wanted. We let our imagination take over and didn't try to control it."
Rather than taking advantage of Los Angeles' major studios, the band cut the demo tracks at a small place called Paul & Mike's Studio in downtown L.A., run by their friend, engineer Paul duGré. On their way in, Berlin recalls, they would walk by homeless families living in boxes. "Here we were whining about being poor musicians and then we encounter real life. These people had real problems. It kind of enforced our sense of ourselves at that moment."