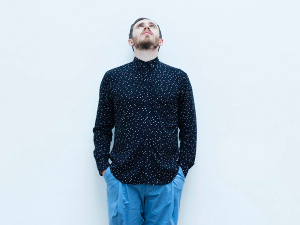 We Move marks a breathtaking and radical push forward for Irish artist James Vincent McMorrow, in what is his most expansive and ambitious work to date. Unlike his previous releases, We Move was written in constant transition. In early 2015 McMorrow decamped to Los Angeles for four surreal months, wanting to experience something totally alien to any way he'd ever worked before. McMorrow explains "Making this album was about changing so many things. Physically changing where I was, mentally changing how I think about life, about myself, how I think about making music. Every time I've made a record in the past, I've walked to the edge of where I've wanted to be, I've gotten scared, and I've walked back to a safe distance."
It was in those four months that the new songs began to crystallize and come squarely into view, among other revelations (like that hiking is just walking, but in a canyon).The album's backbone was formed by three key producers that McMorrow met during his travels who fully understood what he was trying to achieve, geographically, mentally, and emotionally -- Nineteen85 (Drake, dvsn), Two Inch Punch (Sam Smith, Years & Years), and Frank Dukes (Kanye West, Rihanna). Mixing came from the legendary Jimmy Douglass (Donny Hathaway, Timbaland), John O'Mahony (Metric, Coldplay), and Ross Dowling. Collaborating with this talented team was an extension of this new found freedom, "I started working with my friends who inspired me; I let them take control of certain things away from me. And I ended up with an album that sounds like how I see life and how I live my life."
The Dublin-born singer/songwriter rose to fame upon the release of his platinum selling debut album Early In The Morning, reaching #1 in his home country of Ireland, silver status in the UK, and earning a Choice Music Prize and EBBA award nomination in the process. In addition there was an appearance on Later... With Jools Holland. Sophomore album Post Tropical secured his place as a globally recognized musician, garnering a second nomination for the Choice Music Prize, among other accolades. It also led to multiple sold out tours across the world, in the biggest venues of his career including two nights at The Sydney Opera House, London's Barbican and Shepherd's Bush Empire, four nights in Dublin's National Concert Hall, and one particularly epic late night tour bus jam through the entire Hall and Oates back catalog. Apparently his mom prefers his 1st record, his Dad prefers his 2nd.
While touring for Post Tropical, McMorrow appeared at Coachella, Electric Picnic, Edmonton Folk Festival, Gentleman of the Road (Mumford & Sons), Latitude, and Lowlands Festival, among others.