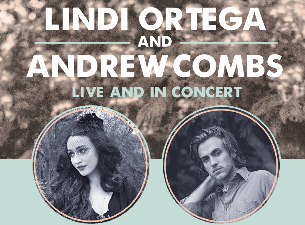 Lindi Ortega
When Lindi Ortega went in search of some quiet last year, the award-winning artist was pleasantly surprised to find a voice she hadn't heard in some time – her own. Amid sparse, atmospheric production, it's precisely this voice – a combination of Ortega's fatalistic perspective expressed with her evocative soprano – that grips your attention on a brand new EP, Til The Goin' Gets Gone.

Ortega recorded Til The Goin' Gets Gone in a converted East Nashville manor, where therapy horses linger on the property. Recording with her longtime guitarist James Robertson, Ortega co-produced the set with Jay Tooke and Jason "Rowdy" Cope. The small production team and minimalist instrumentation make an intimate, immediate setting for Ortega's stark vision of the human condition. Although classic country is an indelible part of her musical history, the EP also sets the tone for the next chapter of her career: "I'll always love Loretta, Dolly and Patsy. But I just want more space. I want more ambience."

Ortega's guitar-playing chops and innate country music instincts put her in an elite group of artists; she has earned an unusually inclusive type of success with both indie cred and mainstream country recognition.
From supporting Carrie Underwood on the CMA Awards to her opening slot on Chris Stapleton's recent Canadian arena tour, Ortega is a sought-after and unique personality in Nashville's music community and beyond.
Andrew Combs
A Dallas native now living near the same Nashville airport immortalized in the opening sequence of Robert Altman's country music odyssey, Andrew Combs is a singer, songwriter, guitarist and heir to that 1975 film's idea of the Nashville troubadour as a kind of musical monk. Here in the twenty-first century whorl of digital narcissism, where identity can feel like a 24/7 social media soft-shoe performance, Combs makes music that does battle with the unsubtle. As a songwriter, Combs relies on meditative restraint rather than showy insistence to paint his canvases, a technique commensurate with his idea of nature as an overflowing spiritual wellspring.
After touring behind All These Dreams, a record that earned him international accolades and comparisons to everyone from Leonard Cohen to Mickey Newbury to Harry Nilsson, Combs has returned with a new album that puts down stakes in fresh sonic terrain. Canyons of My Mind, out in March on New West, is — as its title suggests — a landscape where the personal and the pastoral converge. Drawing inspiration from the biographies of literary figures like Charles Wright and Jim Harrison, Combs has created an album that explores the notion of "sustainability" in its many facets — artistic, economic, spiritual, environmental.