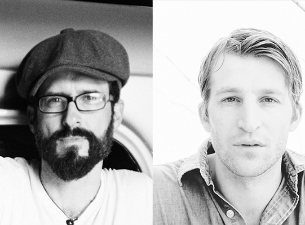 To multiple generations of emerging and established artists, Nashville is nirvana, a music mecca, a fulcrum for serious songwriters who don't just make music for a living, but for whom music is life. For years now, Tony Lucca has had the energy and spirit of Music City coursing through his veins, a seemingly life-sustaining flow of inspiration that in part served as the lifeblood for the writing, recording and producing of his current self-titled album, the eighth full-length studio set in his notable canon.
For Lucca, who was raised in a very large musical family in yet another American music mecca, Detroit, home to Motown, the constant opening of professional doors started when he was very young. It's fair to say Lucca has long since stopped chasing his dream of making music, and for some time now has been living his dream. In 1995, following a four-season run as a cast member on The All New Mickey Mouse Club alongside fellow future hit making heavyweights Justin Timberlake and Britney Spears, Lucca relocated to Los Angeles where he dove into doing the Hollywood shuffle/auditioning actor thing before deciding to ditch acting in favor of pursuing his true passion.
Now satisfied with the professional road he was on, Lucca began to put some proverbial musical mud on his tires with his 1997 self-released debut album, So Satisfied, followed later that same year by his sophomore set, Strong Words Softly Spoken. Two EPs and a limited series of live CDs (all released through his website tonylucca.com) set the table for the release of his third full-length, 2004's Shotgun.
This year marks the 10-year anniversary of what many fans and critics concede could be the crown jewel of Lucca's catalog, the emotive Canyon Songs, a touching 10-track tip of the cap to the legendary Laurel Canyon sound immortalized by master musicians including Crosby, Stills, Nash & Young, The Byrds, Buffalo Springfield, Joni Mitchell and Jackson Browne. The album features the standout track "Around the Bend," which as Lucca recalls was written in a motel room in Nashville. "I went to a liquor store, grabbed a bottle of Tennessee whisky, went back to my motel room, left the door open, grabbed my guitar and just started writing it," Lucca says. "I remember looking out the door into that southern Tennessee air and just thinking about all the greats that had come through here… and what a pleasure and honor it is to get the opportunity to just grab a bit of that mojo and make it your own, one song at a time."
So what lies ahead for Tony Lucca?
"It's the 10-year anniversary of Canyon Songs and oddly enough, I'm one of the few artists at my stage of the game who actually owns all of his records; I own the whole catalog," Lucca says. "Instead of diving back into the next album cycle, I've decided to reflect for a minute and promote the larger body of work, to shine more light on Tony Lucca, the songwriter. I've got plenty of traveling ahead. In the meantime, I'll be working on a periodic releasing of deep cuts, B-sides, rarities, and other stuff with the folks at Rock Ridge Music, culminating in a 10-year anniversary vinyl edition of Canyon Songs."