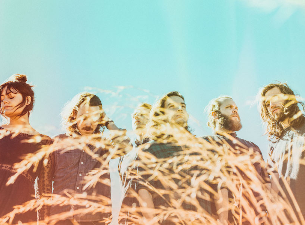 Family And Friends, the rising seven-souled group from Athens, Georgia, banded together under the conviction "Good People, Good Music" and have been exuding consummate sincerity and passion for their craft ever since.
In January of 2014, Family And Friends released their debut EP "Love You, Mean It" reflecting on life's intricacies while exploring themes of romance, companionship, and family-ties. Their dynamic live show has gained them a loyal following, packing venues and festivals alike throughout the southeast. Featuring duel drummers, dynamic strings, collective harmonies, and an all-around emphasis on living in the moment, the group's explosive stage performance erupts with energy and radiates their all-inclusive communal spirit.
The band's highly-anticipated sophomore EP, "XOXO", released in July of 2015, proves once again to be a surefire indication of good things to come for the vivacious collective of kindred hearts affectionately known as Family And Friends.