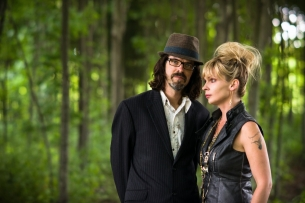 PRESALE: WED MAY 10 at 10AM
PUBLIC ONSALE: FRI MAY 12 at 10AM
"It's a collection of songs that required some extra real estate," Linford Detweiler says of Over the Rhine's Meet Me At The Edge Of The World, the latest product of his prolific two-decade musical collaboration with longtime partner Karin Bergquist.
Indeed, the new two-CD set, recorded with producer Joe Henry and released on the band's own Great Speckled Dog label, marks something of a landmark in Over the Rhine's large and remarkably accomplished body of work, exploring some challenging new musical territory while featuring some of the duo's most compelling songs and performances to date.
The double album's 19 songs—18 original compositions plus a memorable reading of The Band's classic "It Makes No Difference"—are both introspective and expansive, embodying the same mix of lyrical eloquence, emotional nuance and melodic soulfulness that have already won Bergquist (vocals, acoustic guitar, tenor guitar) and Detweiler (vocals, acoustic guitar, keyboards) a passionate fan base and considerable critical acclaim.
Paste has praised Over the Rhine's "lovely, heartbreaking, and ultimately uplifting musical mosaic," while USA Today made note of the group's "mature, graceful and sad songs (and) intimate, soulful arrangements," which "showcase Bergquist's achingly beautiful voice." Newsday described the music as "aggressively beautiful, like those '60s protesters who confronted soldiers with flowers."
"There may be no more soothing voice in music than Karin Bergquist's," observed Entertainment Weekly. "She could be interpreting jazz standards, but fortunately she applies that balm to her and husband Linford Detweiler's beautifully languid originals, which invoke hard times and celebrate the survival of the least fit."
Meet Me At The Edge Of The World's blend of confident songcraft and creative restlessness is apparent on such vividly expressive new songs as "Meet Me at the Edge of the World," "Sacred Ground," "All Of It Was Music," "Favorite Time of Light," "Wildflower Bouquet" and the haunting "Don't Let The Bastards Get You Down," which features guest vocalist Aimee Mann.
The songs that comprise Meet Me At The Edge Of The World were largely inspired by the atmosphere of the couple's rural Ohio home of the past eight years: a ramshackle farmhouse built in 1833, amidst the rolling, tree-lined fields of rural Highland County, 45 miles east of the band's original urban home base of Cincinnati.
"These songs all grew loosely out of the soil we live on," Detweiler explains. "We had always dreamed of having a piece of unpaved earth which would serve as our home base, just like many other American artists or writers that are immediately associated with a specific geographical place. We call our place Nowhere Farm: nowhere, or now here, depending on how you look at it."