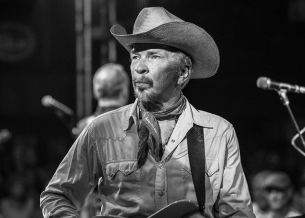 Dave Alvin helped to kick-start the American roots rock scene in the early '80s with the band the Blasters, and has since gone on to a career as a solo performer, songwriter, producer, and sideman that's been as well respected as it is eclectic. Born in Downey, California in 1955, Alvin was raised by a family of music fans, and as teenagers Dave and his older brother Phil immersed themselves in blues, rockabilly, and vintage country sounds, collecting rare records and attending nightclub performances by the likes of T-Bone Walker, Big Joe Turner, and Lee Allen. Like many fans, the Alvin brothers wanted to play music influenced by the sounds they loved, and in 1979 they formed the Blasters with fellow Downey residents Bill Bateman and John Bazz. Combining the revved-up energy of punk rock with an enthusiastic embrace of classic American sounds, the Blasters became a sensation in Los Angeles and won an enthusiastic cult following across the United States and Europe. However, the Blasters were unable to translate their critical respect and enthusiastic fan base into mainstream success, and in 1986 Dave left the band. Phil Alvin continued to front various lineups of the Blasters, and in 2002 Dave joined forces with Phil, Bill Bateman, and John Bazz for a short series of Blasters reunion shows.
While playing with the Blasters, Alvin had already displayed a broad range of enthusiasms with two side projects, Chris D.'s literate goth-punk collective the Flesh Eaters and the Knitters, an acoustic ensemble in which Alvin performed vintage country and folk numbers with John Doe and Exene Cervenka of X. Shortly after leaving the Blasters, Alvinjoined X as lead guitarist after the departure of Billy Zoom; however, Alvin amicably left the group to work on a solo project shortly after the recording sessions for their album See How We Are. Alvin's first solo album, entitled Romeo's Escape in the United States and Every Night About This Time in England, added a purer country influence along with a larger side portion of the blues; while the album was critically well received, it didn't fare well in the marketplace, and Alvin was dropped by his American record label, Columbia. Alvin suffered health problems that sidelined him for a while, except for a wild tour with friends Mojo Nixon and Country Dick Montana as the Pleasure Barons, which was described as "a Las Vegas revue from acts who aren't going to be asked to play Vegas." (A live album was released of a second Pleasure Barons tour in 1993.)
When not busy recording his own music, Alvin has also worked as a producer for several other roots-oriented acts, including Tom Russell, the Derailers, and Big Sandy & His Fly-Rite Boys, and he has collaborated with rockabilly legend Sonny Burgess. As a sideman, Alvin has recorded sessions with the likes of Ramblin' Jack Elliott, Little Milton, Katy Moffatt, and Syd Straw.