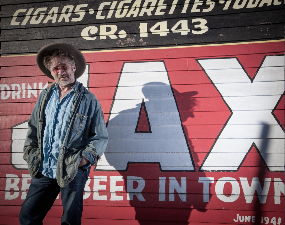 With the release of GoGo Juice on FHQ Records, New Orleans funk master Jon Cleary returns to writing and recording the original material that has brought him critical acclaim since his 1999 album Moonburn.

Beyond Cleary's considerable skills as a tunesmith he is equally renowned around the globe as an accomplished keyboardist and guitarist, and a deeply soulful vocalist. Cleary's thirty-five years of intensive hands-on work on the Crescent City scene has made him a respected peer of such New Orleans R&B icons as Dr. John and Allen Toussaint. Toussaint, in fact, took time from his busy schedule to write most of the horn arrangements for GoGo Juice – thus bringing symmetry to Cleary's recording of an entire album of Toussaint songs, entitled Occapella, which garnered rave reviews in 2012.
In addition to the Toussaint touch, GoGo Juice bursts, full flavor, with expert accompaniment by some of New Orleans' top session men – including guitarist Shane Theriot, fellow keyboardist and vocalist Nigel Hall, and the Dirty Dozen horns – along with members of Cleary's band, the Absolute Monster Gentlemen. (In praise of Cleary's chemistry with this latter group, the eminent music journalist David Fricke of Rolling Stone declared that "Cleary can be an absolute monster on his own, but Cleary's full combo R&B is as broad, deep and roiling as the Mississippi River, the combined swinging product of local keyboard tradition, Cleary's vocal-songwriting flair for moody Seventies soul and the spunky-Meters roll of his Gentlemen"). Grammy Award-winning producer John Porter comes to GoGo Juice with a distinguished resume that includes work with the diverse likes of Elvis Costello, Carlos Santana and B. B. King, to name just a few.
Such diversity similarly characterizes the essence of Jon Cleary's work and career. While thoroughly steeped in the classic Crescent City keyboard canon – from Jelly Roll Morton to Fats Domino to Art Neville, James Booker, and beyond – Cleary uses that century's worth of pianistic brilliance as a point of departure to forge his own unique and eclectic style. As heard in the widely varied grooves and textures of GoGo Juice, Cleary's sound incorporates such far-flung influences as '70s soul, gospel music, funk, Afro-Caribbean (and especially Afro-Cuban) rhythms and more.