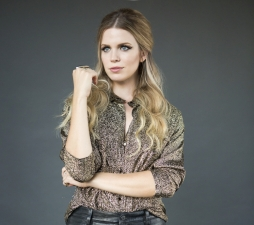 "Louisiana singer-songwriter Kristin Diable has already snagged spots at festivals like Austin City Limits and opening for greats like Lucinda Williams, but the announcement of her latest album Create Your Own Mythology has us thinking that 2015 may be Diable's biggest year yet." – Paste Magazine
Rumi wrote, "Where did I come from, and what am I supposed to be doing? I have no idea. My soul is from elsewhere, I'm sure of that, and I intend to end up there."
Kristin Diable says that music is her ticket on that journey to the soul's distant elsewhere, and her February 2015 record — Create Your Own Mythology — is her invitation to the listener not to follow her on her mythical path, but to go questing for his or her own. That's a journey that will require some suffering, and acceptance, and evolution and honesty. These are the tokens hidden in the songs on this record: smoothing that hard path, leading us away, and leading us home.
The Mississippi River makes a hairpin turn in Baton Rouge before swerving unstoppably into the Gulf of Mexico. As it slowly zigs and zags, rich sediment sloshes loose onto the sun-baked Louisiana turf. It's lush country. Things grow here. New Orleans grew here. Kristin Diable grew here and is still growing. And myths grow here like sugarcane does: fast, tall, and sweet.