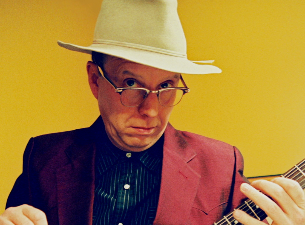 Before there were Kings of Leon, Keys of Black or Whites of Jack in Nashville, there was Webb Wilder. Rock 'n' roll, from Nashville. Formed from Mississippi mud, tinged with British mod. Bruised by the blues. Baptized by Buck and Chuck. Psychiatric psycho-rootsy. Sizzling, glistening, uneasy listening. As it has been for three decades, it is now and ever shall be. Webb Wilder.
Mississippi Moderne. Pronounce it however you like, but Webb pronounces it "Moe-durn." Hybridized and improvised.
Born more than 60 years ago in Hattiesburg, Webb Wilder is not mature. He is the last of the full-grown men, and the last of the boarding house people. He is a unique presence among the peasants. He is a force for good, and a friend to animals.
And he has just made an album of uncommon uncommonness, of unusual unusualness.
Mississippi Moderne. Again, pronounce it however you like. The main thing is to listen, and in your listening you shall hear a marvelous encapsulation of things right and righteous, wistful yet wild, strange at times but always strong. Garage rock and bluster blues. Fuzz-tone and fury, and, in many ways, a full and unbroken circle back to the days when Webb Wilder was a boy possessed of the mind of a full-grown man, listening to The Kinks and The Move, an Anglophile in Mississippi.
Wilder's journey has taken him from from the Magnolia State to Music City, with some hazily important, 1970s gestation time spent in Austin. Mississippi Moderne reflects stops along the way, and suggests future flights.
On Mississippi Moderne, Wilder sings Field's "I'm Not Just Anybody's Fool," and he sings "I Gotta Move," a song by the Kinks he used to perform with The Drapes, back in Hattiesburg (Field produced that band's EP). He also delivers "Yard Dog," a beautiful obscurity that Biloxi garage rock band The One Way Street recorded in 1966. Explorations of Charlie Rich's "Who Will the Next Fool Be?," Conway Twitty's "Lonely Blue Boy," Frankie Lee Sims' "Lucy Mae Blues" and Otis Rush's "It Takes Time" are dunked in deep blues, and performed with a crew of cohorts that have been delivering Wilder music for years: interstellar bass man Tom Comet, drum daddy Jimmy Lester, and guitar slingers Bob Williams, Joe V. McMahan and George Bradfute. Wilder wrote "Only a Fool" with the legendary Dan Penn ("The Dark End of the Street," "Do Right Man"), and he and Hadley reached back to Mississippi roots to pen "Too Much Sugar for a Nickel," a phrase Webb heard from his mother.
Once again, it comes from Nashville. But it brings a world of swampadelic, Wilderized wisdom, bluster, and mayhem. It's Mississippi Moderne, right on time.