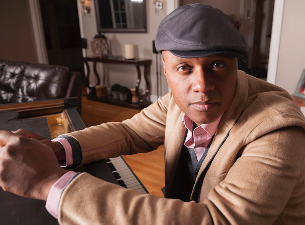 Blessed with a stunningly soulful voice, an uncanny songwriting talent, a charismatic personality and a commanding stage presence, Javier Colon has already won the attention of an international fan base that's embraced his personally-charged, acoustic-textured blend of pop, rock and R&B, an effortlessly distinctive style that he's dubbed "acoustic soul."
Having been introduced millions of TV viewers as the winner on the inaugural season of NBC's The Voice, singer-songwriter-guitarist Colon is set to take his recording career to the next level with Gravity, his fourth album and his first for Concord Records.
Indeed, the 13-song Gravity, on which Colon wrote or co-wrote all but three songs, marks a creative milestone for the artist. Such musically compelling, emotionally resonant tunes as "For A Reason," "Clear the Air," "Walking Blind" and the memorable title track demonstrate the breadth of his talents, matching his distinctly expressive voice with irresistible melodies, insightful lyrics and Colon's own distinctive acoustic guitar work, which sets the tone for the album's spacious instrumental arrangements.
Recorded in Brooklyn, Nashville, Los Angeles and Utah as well as the artist's home state of Connecticut, Gravity marks a turning point in an eventful musical journey that's taken Javier Colon to a lot of interesting places. The son of a Dominican father and a Puerto Rican mother, Colon emerged as a musical prodigy early in life. His gifts took him to the University of Hartford's Hartt School of Music, where he founded an a cappella R&B quintet that performed at Harlem's legendary Apollo Theater. Soon after graduating from Hartt with a degree in Music Education, he became lead singer of the neo-funk group EmCQ.