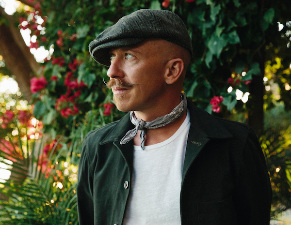 PRESALE: WED MAY 10 at 10AM - THU MAY 11 at 10PM
PUBLIC ONSALE: FRI MAY 12 at 10AM
Foy Vance knows how to write a song. It's a naturally-born but dedicatedly-finessed skill that has led him to collaborate with artists as diverse as Plan B, Sheryl Crow and Rudimental, synced his music on multiple TV shows ranging from Grey's Anatomy to the finale of Sons Of Anarchy, and caught the ears of some of the biggest players (in every sense) in music, from Elton John to Ed Sheeran.
So it is that in the run-up to the release of his new album, Vance travelled to Nashville. It's a long way from home for the Irishman, both from the place of his birth (Bangor, Northern Ireland) and the place of his residence (Aberfeldy, Scotland). But for an inveterate songwriter, Music City is an irresistible draw, a place where Vance can work with the best of the best. Not, Vance clarifies, for himself or his own material. For one thing, he's already completed his new album, and with songs of the calibre and single-minded brilliance of the dozen that comprise The Wild Swan, there's no need for any outside assistance. Vance crafted The Wild Swan entirely to his own vision, in Nashville's Blackbird Studios, aided by Jacquire King, who recorded and mixed one of his favourite albums, Tom Waits' Mule Variations.
Vance also co-wrote Ed Sheeran's "Tenerife Sea" and "Afire Love" from 2014's multi-million selling X, and he wrote "Make It Rain", which Sheeran sang over the final episode of cult biker drama Sons Of Anarchy. Now, with the impassioned, rootsy, rousing The Wild Swan – an album that makes nods to, and takes cues from, proper heroes ranging from Noam Chomsky to Ziggy Stardust to WB Yeats – the pair's relationship moves to another level. Sheeran has signed Vance to Gingerbread Man Records, the label he launched in 2015 with Jamie Lawson and his self-titled, chart-topping debut album.
There's no denying the infectious beauty of The Wild Swan. It opens with "Noam Chomsky Is A Soft Revolution", a rock'n'blues celebration of a roll-call of musical, philosophical, literary and polemical insurrectionists. It stops off with "Coco", a tender, campfire song written for the young daughter of good friend Courtney Cox (Coco is a friend of Vance's own daughter, Ella). And it ends with a dash of uillean pipes and "The Wild Swans On The Lake", a stop-you-in-your-tracks breath of Celtic balladry inspired by WB Yeats' poem The Wild Swans At Coole.
Vance's rich, rich voice also gets up close and personal on the hymnal "Burden", then digs deep for "She Burns", a song and a performance evocative of Bruce Springsteen's "Tunnel Of Love". There are other, equally deeply felt glories too, like the ancient-but-modern "Be Like You Belong", Vance's soulful rasp weaving through pedal-steel and simple piano chords, or "Ziggy Looked Me In The Eye".
Vance will tour this summer with Elton John, supporting him on the British and European legs of his Wonderful Crazy Tour. Vance's The Wild Swan will be released May 13, 2016