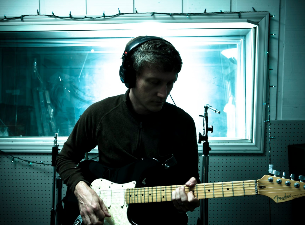 "…a first-rate songwriter and band leader." — Greg Kot, Chicago Tribune

"Jason Narducy is the reason Foo Fighters exists (just ask Dave Grohl). He's also in possession of rock's sexiest elbows (just ask Ian Rubbish)." — NPR Music

"'Metal Frames' [. . .] is full of compact, bristling and melodic rock songs indebted to snarling punk, noise-laced pop, muscular classic rock and Cheap Trick." — Salon

"With 'Metal Frames,' Narducy not only avoids the sophomore slump, he enters MVP territory." — Magnet

"…a powerhouse pop record that prides itself on tenacious vocals and resolute rhythm guitar." — Stereogum

"You won't see more indie rock cred than on the CV of Jason Narducy." — KEXP, "Song of the Day"

I suppose the "smart" thing to do would be to start off with all the usual crap folks tend to talk about when Jason Narducy, the "brains" behind the rock collective Split Single, comes up in casual conversation, like how he plays bass with Bob Mould and those fuckers in Superchunk, used to play bass with Bob Pollard and whomever else, had a band called Verbow, inspired Dave Grohl to devote his life to music back when neither of them were even old enough to go on all the rides, and whatever the hell else you wanna throw in there. But do you want the "facts" or do you want the truth?

The truth is Narducy scares the hell out of me.

I'll never forget the first time I met the guy. It was in Chicago or Baltimore maybe. Or it might have been Akron. Anyway, I was shuffling home after another long night of anything goes when suddenly, from out of nowhere, a van pulls right up onto the sidewalk and screeches to a halt right in front of me, its side view mirror nearly cracking me right in the jaw.
"I'll call you," Narducy says, stuffing the napkin she had just written her phone number on into the pants pocket of some sad sack passed out in a booth by the entrance and heading for the van. "Maybe."

The night finally ends with Narducy standing on a hillside at dawn, caressing a disoriented fawn while giggling uncontrollably with a gaggle of French schoolgirls who seemed to have appeared out of nowhere.

The reason I bring all this up, of course, aside from the fact that it's awesome, is because Narducy's band Split Single has a new album out. It's their second, it's called Metal Frames, and, kind of like the night I just told you about, it's goddamn exhilarating and scary and I didn't want it to end. Narducy sings and strangles the guitar on it, Jon Wurster (Bob Mould, Superchunk, Mountain Goats, and 78 other bands) beats the crap out of the drums on it, John Stirratt (Wilco, duh) thumps the damn bass on it, and Nora O'Connor sings her ass off all over the thing.
— Dave Hill, 2016