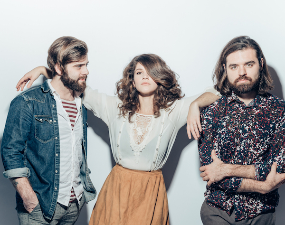 "For a moment the room is silent, hanging on to a heart-wrenching ballad. Then, in just a few chords the crowd is swept back on their feet again, dancing, smiling, and getting lost in the energy emanating from this dynamic band. Kari Spieler's voice, rich in tone and powerful in delivery, weaves through her and Adam McHeffey's collaborative songwriting and guitar playing. Shaun Savage's creative output on the electric bass (and often three-part harmony) makes the partnership of story and sound complete. Collectively these artists, known as Swear and Shake, bring an experience to the stage—a combination of truthful lyrics, passionate performance, and a warming narrative." –Christina Morelli, The CEO Artist
After circulating a bedroom demo of their first song, "Johnnie," Swear and Shake began their adventures of fiercely writing songs and playing them out anywhere they could. The Brooklyn-based band released their first LP, Maple Ridge, on their own independent label, Pots and Pans. This release quickly garnered the support of independent blogs, YouTube cover artists, and show-goers across the country. In the next few years of touring, Swear and Shake crafted a dynamic full-band show.
After years of touring, the band packed up their Brooklyn apartments and headed for Nashville, Tennesse. When asked about this relocation in an interview for Nashville Lifestyles Magazine, Kari Spieler answers "You'd leave for tour and then come back to your part-time job at Anthropologie... Oh, my God—it was horrible. I'd literally be picking pants off the floor and people would recognize me from playing Bowery Ballroom the night before." Spieler sings of this particular experience in "Blouses," one of the first songs written for the new LP.
Nashville represented change for the band, and enabled them to write their second full-length record, The Sound of Letting Go. During the writing process, the band was heavily influenced by the intricate marriage of band and orchestral arrangements found in baroque pop (think: Beach Boys - Pet Sounds, or The Zombies - Odessey and Oracle) and discovered Richmond-based production house Spacebomb (Natalie Prass, Matthew E. White, Julien Baker) to help realize their musical ambitions.
Funded by the overwhelming support of their fans and friends on PledgeMusic to create a 10 track LP (13 track deluxe, TBA) that speaks to the band's experiences of being on tour, and growing as an independent artist. Swear and Shake has slated this new release for spring 2017.