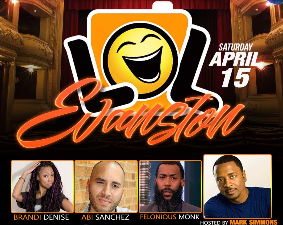 Brandi Denise is a standup comedian and comedy writer from Florida, Texas, Ohio, Germany and everywhere else her military parents took her

After completing her Bachelor's degree Brandi decided to try her politically incorrect antics to the stage. Brandi now resides in Chicago, where she is an alumni of Chicago Second City Improv Program and a Conservatory Student, Annoyance theater alumni and the I.O.

Abi Sanchez hit the stage in 2010 and hasn't stopped since. His views on family life, relationships, social media and life's vices have all been formed by a childhood of too much TV and not enough guidance. His mellow demeanor and stage presence captivate audiences which has allowed Abi to form a category all his own.

Whether on stage or screen, Felonious Munk (born Dennis Banks) brings intelligence and wit with the funny. A headliner at many comedy clubs across the country including the Funny Bone, Gotham, and the Laugh Factory, Munk was also a correspondent on the Nightly Show with Larry Wilmore. In addition, he's added his unique social commentary to local newscasts in New York City on WPIX 11 and nationally on the syndicated network Touchvision.