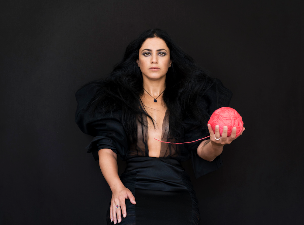 Prominent Tunisian Singer/Songwriter Emel returns with Ensen, out now.
From her home in New York Emel reaches for the international stage with Ensen, an album recorded in seven countries with numerous producers including Valgeir Sigurðsson (Sigur Ros).
Emel's first album, Kelmti Horra (My Word is Free), introduced her groundbreaking marriage of sounds steeped in Tunisian rhythms and electronic beats. On Ensen, she's developed a style that's even more uniquely her own, combining organic and electronic sounds to produce a record that will appeal to any lover of innovative and heartfelt music. "It took a couple of years to realize the visions that were popping up inside me," Emel says. "I faced resistance from people wanting to keep me confined to an 'ethnic box' and trying to limit my creative freedom."
Despite government censorship in Tunisia, Emel found relief and strength in the music of Baez, Dylan, Lennon, Pink Floyd and Led Zeppelin—she even formed her own metal band while at university. She soon became known on the Tunisian alternative scene for her protest songs, "little by little, more and more people started coming to my shows, telling me my words were a relief — but I knew I'd never get anywhere in Tunisia, no matter how talented I was."
After saving money from gigs, Emel moved to France in 2008 and developed an international following through social media. During the Tunisian Revolution in 2011, her song "Kelmti Horra (My Word Is Free/written in 2007)" reached millions of views on Youtube and eventually became the anthem for the Arab Spring.
"While the songs on my first album, Kelmti Horra (My Word Is Free), developed on stage over a six-year period, Ensen is a fully realized studio album. Producing it was a process of soul searching and liberating musical experimentation. I was looking for a deeper, limitless way of expressing myself."
With her main collaborator, French/Tunisian producer and physicist Amine Metani, Emel shaped an album of expansive soundscapes. She recorded Ensen in seven countries across three continents, with several additional producers including Valgeir Sigurðsson (Sigur Ros, Bjork) and Johannes Berglund (The Knife, Shout Out Louds, Ane Brun).
"We initially recorded acoustic takes of the songs using piano, guitars and Tunisian style drumming. I then had the idea of create my own library of electronic beats by running percussion and recorded sounds through several homemade setups. Then we added in analog keyboards, mixers, effects and distortion, and the result sounded nothing like anything we'd ever heard before."