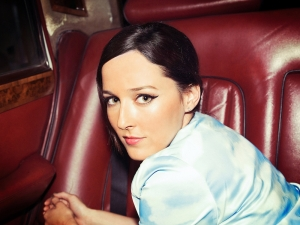 Growing up in Roberta, Georgia – population: 800, with its rich assortment of eccentric characters, southern wit and teenage isolation, helped rising singer/songwriter Meiko find a clear voice and keen insight. She's built an already impressive following, quickly becoming one of the west coast's most enchanting and promising talents.
"Being an awkward, bored middle schooler was really helpful for my creative skills," she remembers, "because I spent a lot of time alone, in my room, playing my guitar. I could also run around a lot outside, not having any supervision. When you're raised in the middle of the woods, your imagination soars."
The Bright Side, Meiko's second solo release and Fantasy Records/Concord debut, is an intimate, fearless song-cycle about risk, regret, tenderness and love. Her indelible melodies and sharp lyrical viewpoint give The Bright Side a powerful, artistic punch.
"There was a turning point where I decided to stop being so pessimistic about relationships and people and love," explains the L.A. based songwriter. "It's called The Bright Side," Meiko says, "but musically there are many sides to it. It's got the electronic beat side, the retro side and even an R&B side. I was able to do everything I wanted to do."
Thumping beneath the mix are electronic beats that she helped create with her three producers, including Belgian electro-pop wiz Styrofoam, known for his remixes of songs by The Postal Service and The Submarines.
Meiko, whose name (pronounced MEE-KO) is derived from her one-fourth Japanese heritage, filled her first album with songs about heartache and rocky relationships; a broken heart can be great for songwriting. The album's coffeehouse folk-pop was largely sad-eyed and blue, recounting the story of a 20-something girl trying to find someone, anyone, to spend her days and nights with.
"The new songs were all born on the guitar, but I wanted to make this record a little more lively," she says. We played around with beats and came up with something that people could move to. There is more color, layers and texture this time around - acoustic guitars, piano, strings, horns and background harmonies."