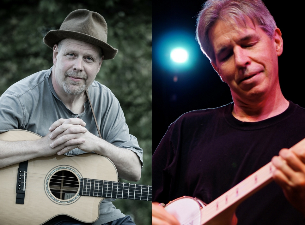 Michael J. Miles is regarded as one of America's most inventive clawhammer banjo players. The Chicago Tribune's critic Howard Reich said that, "Everything Miles plays is worth savoring." The late great Pete Seeger described his playing as "the most beautiful I've heard…this is enough to make me want to learn the banjo all over again."
Michael has collaborated with some of the worlds finest musicians--most recently Darol Anger along with members of Chicago Arts Orchestra, Boston Symphony & Funkadesi. He has been featured all over the world--Smithsonian Center, Washington; Royal Opera Theatre, Marrakesh; American University, Beirut; Musical Instrument Museum, Phoenix; Ulster-American Folk Park, Northern Ireland; MIAM, Istanbul. 2017 includes tours to Ireland & Spain.
Critics have raved about his work: Lin Brehmer at WXRT describes him as a "Genius...in a musician's paradise, the viral videos would be artists like Michael J. Miles playing his banjo." And describing his groundbreaking work recording JS Bach, the Banjo Newsletter wrote: "This is a brilliant tour-de force that effectively obliterates the limits of what was thought possible on clawhammer banjo."
National Fingerpicking Champion and longtime Evanston resident Eric Lugosch presents an original and inspirational show. According to Justin Hayford of the Chicago Reader, "Lugosch strolls onstage with his guitar into the home turfs of folk, blues, pop and jazz, shepherding influences into harmonic bliss like a global musical peacekeeper." Eric's original compositions and arrangements of traditional and jazz standards are now considered classics in picking circles. He is regarded as a world class fingerstyle guitarist and has performed in festivals around the world. He's shared the stage with greats such as Doc Watson, Taj Mahal, John Prine, and Leon Redbone. This will be a great opportunity to hear Eric perform for his hometown.

"When it comes to guitar playing, arranging, and composing, there is no doubt about it, if they send some fingerpicking astronaut on one of those 300 year voyages that only takes ten years out of his life, he will find on his return--if he finds anything at all-- that guitarists are still listening to Eric's music." — Duck Baker
Michael & Eric have been heralded across the world as being among the very best in their fields, but have never shared the stage together. Don't miss the explosive second set where Eric "the astronaut" with his guitar, and Michael "the most beautiful" with his banjo, deliver a sound you've never heard before!