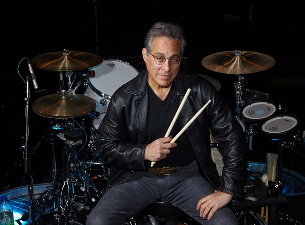 Max Weinberg recently celebrated his 43rd year as the drummer for Bruce Springsteen's E Street Band . As a member of that group he has performed on such albums as "Born To Run", "Darkness On The Edge Of Town", The River", Born In The USA", "Tunnel Of Love", "The Rising", "Magic", "Working On A Dream", and most recently, "Wrecking Ball", and "High Hopes"
From 1993 until 2010 Max served as the Music Director and Bandleader on NBC TV's "Late Night" and "The Tonight Show" programs and became a fixture on those broadcasts as a result of his swinging drumming and his featured participation in hilarious comedy sketches now enjoying a second life on You Tube.
In April of 2014 Max was inducted into The Rock And Roll Hall Of Fame as a member of The E Street Band.
Performing with Max will be: Glen Burtnik (bass and vocals), Bob Burger (rhythm guitar and vocals) and John Merjave (lead guitar and vocals). Glen Burtnik is a singer, songwriter, entertainer and multi-instrumentalist, best known for his work with Styx and Electric Light Orchestra. Burtnik appeared in the Broadway production of Beatlemania as Paul McCartney, and continues his love of The Beatles playing at national Beatle Festivals. Bob Burger is a singer/songwriter who also has long performed shows with Glen Burtnik and Bobby Bandiera (Bon Jovi, Southside Johnny), and has also performed with Paul McCartney, Bruce Springsteen, Jon Bon Jovi, Billy Joel, Southside Johnny and many others. John Merjave is a longstanding member of the ìBeatleFestî house band and other national shows performing with Billy Preston, Donovan, Denny Laine and many others.