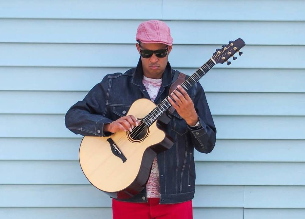 "...a one-man band who turns a guitar into an orchestra and his voice into a chorus." —The New York Times
Singer-songwriter and guitarist Raul Midón has earned renown as one of music's most distinctive and searching voices. He is "a one-man band who turns a guitar into an orchestra and his voice into a chorus," according to The New York Times. Midón has collaborated with such heroes as Herbie Hancock and Stevie Wonder, along with contributing to recordings by Jason Mraz, Queen Latifah and Snoop Dogg and the soundtrack to Spike Lee's She Hate Me. The New Mexico native, blind since birth, has released seven albums since 1999, including the hit studio productions State of Mind (Manhattan/EMI, 2005), A World Within a World (Manhattan/EMI, 2007) and Synthesis (Decca/Universal, 2009). Midón's most recent release is the captivating CD/DVD Invisible Chains – Live from NYC. Attuned listeners can hear the inspirations of Donny Hathaway and Richie Havens in his work, as well as Sting and Paul Simon. But Midón's questing musicality makes him, as the Huffington Post put it, "a free man beyond category."
A vibrant presence on screen, Midón can be seen in the documentary on Hancock's star-studded album Possibilities, and he is featured collaborating with soul icon Bill Withers in the documentary Still Bill. Midón has also demonstrated his progressive techniques by performing for the series of "TED Talks." Ever since being told by some when he was a child that his blindness meant that "you can't do this, you can't do that," Midón has lived a life devoted to shattering stereotypes. His forthcoming album has the singer-guitarist adding producer-engineer to his portfolio of talents, with special computer software for the blind enabling him to engineer sessions on his own in his home studio. This project – which includes collaborations with Withers, R&B singer-songwriter Lizz Wright, Cameroonian jazz bassist Richard Bona and Grammy-winning jazz singer Dianne Reeves – underscores why People magazine called Midón "an eclectic adventurist."