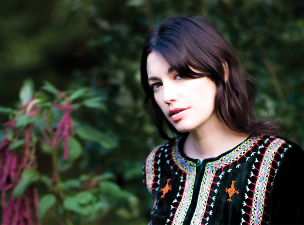 The daughter of two preacher's kids, Pieta Brown's early upbringing in Iowa was in a rural outpost with no furnace, running water, or TV. There, she was exposed to traditional and rural folk music through her father, Greg Brown, the now beloved Midwestern folk singer. Later, while living with her mother in Birmingham, Alabama during her formative years, Pieta drew on and expanded these influences and began writing poems and composing instrumental songs on piano. By the time she left home at 18 she had lived in at least 19 different houses and apartments between Iowa and Alabama.
In her early 20's, after experiencing what she describes as "the songs calling", Pieta started experimenting with the banjo and eventually picked up a 1930's Maybell arch-top guitar during a visit to her father's place and never looked back. Emerging from a disjointed and distinctly 'bohemian' upbringing, Pieta began performing live and making independent recordings soon after teaching herself how to play guitar. "I grew up around a lot of musicians and artists living on the fringe, and have always felt most at home among them," Pieta says.
Making her first recording with (now) frequent collaborator, guitar-ace and Grammy-Award winning Indie/Roots/Americana Producer, Bo Ramsey, started Pieta down the path of making recordings based around live performances. Her first album (self-titled), recorded and released independently in 2002, was recorded live in 3 days to 2-inch tape. "My first experience in the studio really steered me down a certain road," Pieta says. "I was so shy about singing my songs then, and barely understood how to sing into a microphone, in spite of all the live music I had grown up around. Still, I was feverishly driven to deliver these songs in my heart. Right away, during that first recording session, as we were playing live and recording to tape as it went down, I experienced the magic of hooking all the way in with the song in the moment...playing the songs, with those players, playing those instruments, in that room, at that time. And ever since, I've been hooked on that magic feeling."