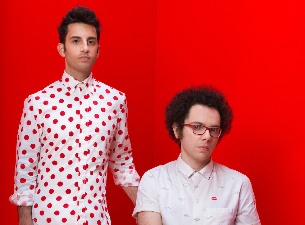 VIP Package Presale: Thursday 1/19 at 9AM
Public Onsale: Friday 1/20 at 9AM

VIP includes 20-minute Q&A session and Personal photograph w/ Ian & Chad; Autographed tour poster, pin set & laminate.

The magical journey of A Great Big World began in the music practice rooms of NYU (New York University) where the two were attending college. In 2012, after a few twists and turns of fate, the friends formed A Great Big World and released a six-song EP funded by Kickstarter. Soon after, they released "Say Something" as their first official single in 2013. Its terse, tearful piano and Axel's heavenly hypnotic vocals tugged on heartstrings, and struck a chord. After hearing it during a pivotal segment of Fox's So You Think You Can Dance, Christina Aguilera fell in love with the song. She collaborated with AGBW on a new recording of the track that they subsequently performed together on NBC's The Voice, which launched it to #1 on iTunes all around the world.

2015 saw the arrival of their second album When the Morning Comes, featuring singles "Hold Each Other," which celebrates love of all kinds, and "Won't Stop Running," which was King's powerful response to his experiences living with multiple sclerosis. Axel and King are currently writing brand new music for release later this year.