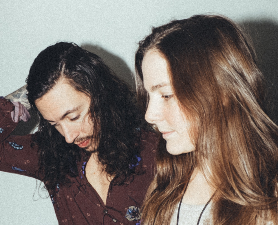 "Man, in a word, has no nature; what he has is — history." – Jose Ortega
For Noah Gundersen, the past few years have brought about immense growth and change, both as an artist and as a young man grappling with issues of identity and independence. It should come as little surprise, then, that his stunning new album, 'Carry The Ghost,' is so heavily influenced by existential philosophy. What's so striking, though, is hearing a 25-year-old articulate such weighty themes, packaging them into heartbreakingly gorgeous melodies with a plainspoken language that cuts to the quick upon first listen. Then again, Noah Gundersen has never aimed for ordinary.
Though only a little more than a year has passed since the 2014 release of 'Ledges,' 'Carry The Ghost' finds an older, more sophisticated Gundersen attempting the difficult work of unraveling our purpose here, searching for answers about the nature of man and the meaning of our relationships. Gundersen came to an understanding of himself as the sum of his experiences, a view he embraces as a positive one and which led him to delve into the works of existentialist writers and philosophers like Ortega. For Gundersen, the personal history that shapes each and every one of us is the titular ghost, and it's the thread that ties the entire record together.
The album's more ambitious scale showcases a natural evolution following the success of 'Ledges,' which earned raves everywhere from NPR's World Café to CBS Saturday Morning. Hailed as a "powerful debut" by SPIN, the record delivered on the promise of a string of previous EPs, which poetically tackled issues of faith and doubt and loss and desire as Gundersen transitioned into adulthood. It earned him a devoted national fan base, with many introduced to his music through placements on popular television series like 'Sons of Anarchy,' where his introspective and brooding songs proved to be an invaluable piece of the storytelling.
With 'Carry The Ghost,' Gundersen once again looked inward to find inspiration. "This album grew out of a desire to know myself, to know how I was supposed to live," he explains. "And in that process, I realized that maybe there is no 'supposed to be.' The concept of 'Carry The Ghost' is that we're made by our experiences and to accept that instead of fighting it. The last several years have been a process of accepting things as they are and to not see them as so black and white or right or wrong, to accept that we're not made to be a certain way, but that we are involved in an ongoing process of becoming."