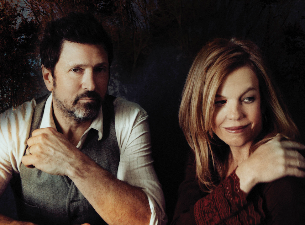 Fri
Apr
21
2017
7:00 pm
Brigitte DeMeyer and Will Kimbrough
When Brigitte DeMeyer and Will Kimbrough first joined their soulful voices in song half a dozen years ago, they knew they were destined to make beautiful music together. Since then, they've showcased their instinctive vocal interplay and formidable song-crafting skills throughout North America and Europe; they've also collaborated on two albums, and become the best of friends. But the Nashville-based pair had never released a recording as an official duo — a situation they'll finally remedy on Jan. 27, 2017, with Mockingbird Soul.

"We figured we might as well put both our names on it and just make it a thing," says Kimbrough, "because the chemistry's there, the writing's there, the harmonies are there, and so is our mutual love of all the music these songs are derived from and inspired by."

That would be what he calls "the good stuff": blues, gospel, early jazz and the country music those genres influenced, along with bluegrass, early rock 'n' roll, folk … American roots music, in other words.

DeMeyer characterizes their wonderfully warm, organic blend as acoustic soul. They convey it with an easy unpretentiousness, in songs that sound as if they were created by two siblings who grew up harmonizing in-between chasing fireflies and splashing in swimmin' holes.

The fact that they hadn't even met until appearing on the same Music City Roots bill in 2009, a year before DeMeyer moved to Nashville, simply reinforces how well-matched they are — even though he was raised in Mobile, Ala., and she was a surf-loving California girl.

Despite their geographically diverse upbringings, both had fallen under similar musical spells. She was bewitched by Etta James, Mavis Staples and Sly Stone, and later Steve Earle, Patty Griffin and the Allman Brothers. He was seduced by the Beatles, Big Star and JJ Cale, and guitar rock from Allman to ZZ. Lightnin' Hopkins, a touchstone for both, was the source of an early bonding moment.