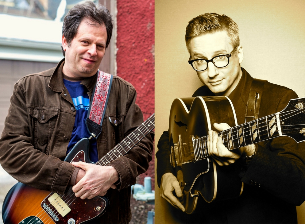 Dave Specter's Adventures in Guitar series is back in 2017 with a guest appearance by one of the most acclaimed blues, jazz and roots guitarists in Chicago, Joel Paterson.
The local guitar wizard has spent the last decade + touring and recording with acts like David Honeyboy Edwards, Wanda Jackson, The Western Elstons, Carl Sonny Leyland, Jimmy Sutton's Four Charms, Deke Dickerson, and his own Joel Paterson's Blues Roundup and the Modern Sounds (who were voted best Chicago Jazz Band in the 2009 Chicago Reader Poll). While Paterson can recreate the sound and feel of guitar greats like Django Reinhardt, Tiny Grimes, Chet Atkins, Wes Montgomery, and Merle Travis, he can also nail the Chicago and delta blues idioms of guitarists like Blind Blake, Robert Nighthawk, Jimmy Rogers, and Freddie King.
"There's something charmingly unpretentious about Paterson's self-styled mixture of jazz, country swing and other genres he brings to guitar. Yes, the historic origins of this music may be apparent, but Paterson brings his distinctly lyric voice to it." – Chicago Tribune
"Joel Paterson kinda defines who the ideal session guy should be: selfless, musical (i.e., not a technique monger) and born with impeccably good taste. His sympathetic hollowbody makes the rock, jazz, country, rockabilly or swing he's backing come alive." – Timeout Chicago
Dave Specter's Adventures in Guitar series, which has been running at SPACE for the past eight years, has featured some of the finest talents in blues and jazz including Jimmy Johnson, Lurrie Bell, John Primer, Bobby Broom, Guy King, Steve Freund, Jeff Parker, Donald Kinsey, Tad Robinson, Billy Flynn, Nick Moss, Rick Holmstrom and Eddie Shaw. Dave's 10th album Message in Blue, released in 2014, was a first ballot Grammy nominee for Best Blues Recording and received rave reviews both nationally and internationally.
Dave has been a fixture on the Chicago blues scene for the past 3 decades and has appeared on over 35 albums as a recording artist and producer.
"One of the few top-tier guitarists" - Downbeat
"A global ambassador of Chicago blues" - Chicago SunTimes