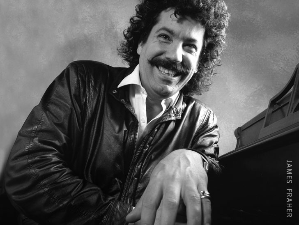 SPACE & Lagunitas present a tribute concert to Barrelhouse Chuck. The concert will feature Mud Morganfield, Erwin Helfer, Billy Flynn, Bob Stroger, Kenny "Beedy Eyes" Smith, Oscar Wilson, Nick and Kate Moss, Gerry Hundt, Joe Nosek, Little Frank, John Primer & many more special guests.
Donations can also be made via Barrelhouse Chuck's GoFundMe page.
Born in Ohio (Columbus, OH - July 10, 1958) where he first learned to play the drums at the age of 6, Barrelhouse Chuck, whose real name is Charles Goering, later switched to the piano and was living Gainesville, Florida when he heard his first Muddy Waters record featuring Otis Spann on piano. This was a major turning point in Chuck's life.
After that, Chuck started buying the records of every blues artist he could find. A quick study on the keyboards, it wasn't long before Chuck had formed his own band and began opening for Willie Dixon, B.B. King, and Muddy Waters and Chuck was playing with the great Bo Diddley. It was also during this time (the middle 70's) that Chuck and some of his friends began following Muddy Waters around to get some first hand exposure to both Muddy and his then current piano player, Pinetop Perkins.
'We used to follow Muddy all around down South. We would wait in parking lots for the Van with Illinois plates to roll up. Pinetop Perkins & Willie Smith would recognize me and get me into their concerts. Then invited me to be back stage with Muddy and the band. Afterward, I'd go out to breakfast with them. I was just in awe.'
Then realizing he needed to immerse himself in blues piano he deciding to go directly to the source. In 1979 he drove 24 hours straight from Florida with Right-hand Frank to Chicago and went directly to B.L.U.E.S on Halsted specifically to see Sunnyland Slim. 'I took a gamble and came to Chicago, and the first thing I did when I arrived was to go to B.L.U.E.S on Halsted. I walked in the door and there was Sunnyland Slim. I went right up to him and said, 'I've just driven 24 hours straight to see you.''
Chuck spent the next 16 years studying with the living legend, who Chuck called 'the great-granddaddy of all the blues piano players.' Through Sunnyland he met all the great blues musicians in Chicago, and often ended up playing with and hanging out with them. Piano greats Blind John Davis, Big Moose Walker, Detroit Junior and Erwin Helfer were also playing blues piano in Chicago. Chuck spent years listening, learning and became friends.
Watch a video profile of the longtime Chicago bluesman via WTTW's Chicago Tonight.