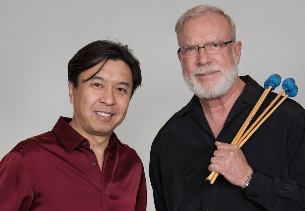 Gary Burton began playing the vibraphone at age six. He discovered jazz at age thirteen and by the time of his high school graduation had recorded his first album for Columbia Records with legendary guitarist Hank Garland, and signed his own recording contract with RCA Victor, an affiliation that continued for eight years.
After attending Berklee College of Music, Burton moved to New York in 1962, and toured for a year with pianist George Shearing, followed by a three-year stint with the Stan Getz Quartet. It was during the years with Shearing and Getz that Burton pioneered four-mallet technique on the vibraphone, a technique widely known today as the "Burton grip." In 1967, at the still young age of twenty-four, Burton launched his first band, the Gary Burton Quartet, introducing a new genre of jazz first called "Jazz Rock," but soon after labeled "Fusion Jazz." In his second year as bandleader, Burton not only won the Downbeat Magazine poll's Best Vibraphone category for the first time, but was also named Downbeat's 1968 "Jazz Musician of the Year," the youngest person to win that category.
In 1972, Burton teamed up with pianist Chick Corea to record "Crystal Silence," a collection of duets for vibraphone and piano, the success of which led to numerous duet collaborations by other jazz artists. Burton has continued touring annually and recording with Corea for the past 44 years. Their duet recordings have won five Grammy awards.
At about the same time the Burton/Corea duet project began, Burton decided to become seriously committed to jazz education, beginning a 33-year career at his alma mater, Berklee College in Boston. He served his first decade at Berklee as a professor, then was appointed Dean of Curriculum overseeing the college's academic programs for his second decade at the college. In 1995, Burton was appointed Berklee's Executive Vice President, a position he held until his retirement in 2004.
As a bandleader, Burton is well known for discovering talented young musicians including such artists such as Larry Coryell, Pat Metheny, John Scofield, Makoto Ozone, Donny McCaslin, Kurt Rosenwinkel and Julian Lage.
Now in his seventh decade, Gary Burton has recorded nearly seventy albums/CDs as a leader. He has been nominated for 22 Grammy awards. He has won a total of seven Grammy awards and been voted best vibraphonist in many jazz polls, year after year. He is recognized not only as a major bandleader and innovator, but also a highly respected jazz educator, who has touched the lives of thousands of students.
Recently Gary Burton penned his autobiography, "Learning To Listen," which was voted Best Jazz Book of 2013 by the Jazz Journalists Association.
2017 marks an important year for this legendary jazz artist. Burton has announced he is retiring from his career as a touring musician, after completing his current USA tour and a tour of Japan. All of the performances in 2017 will all be duet concerts with his friend and collaborator of more than thirty years, pianist Makoto Ozone.