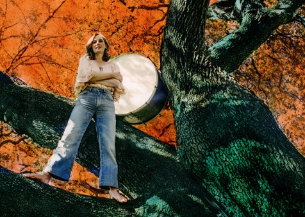 As 2015 began, I had somehow been on the road for the fastest, longest two years of my life. I had kicked the tires hard touring in support of my album Traveling Alone. I had recorded and toured with classical pianist Simone Dinnerstein. My friend Andrew Bird asked me to be in his old time band the Hands of Glory, so I pretended I was a member of the Carter family on guitar, and I watched him like a hawk to make sure he felt fully free; singing harmony with Andrew is not unlike flying. Suddenly, I was turning 40, getting divorced, and scared out of my mind. So I decided to take a year off the road to see what would happen to me if I just stopped touring… On a friend's ranch in Marfa, Texas, in the middle of the high plains without a car headlight in sight, I did just that, and when I did, I started to do what I always do: the humble work of marking life by writing.
On the ranch, I wrote about the long straight roads in west Texas: the ones that make sense, that make you feel like what is behind you is indeed behind you and that good things are up ahead. 'Wait For Me' is a wish that life would run like that. Watching the ranch hands keep their daily routine, I wrote about keeping my own head down, pressing on, and the way that love persists and pushes forward no matter what happens, 'Love Soldiers On.' I watched birds learning to fly and bathe in the driveway dust at dusk in the front yard and wrote 'Icarus' about what they taught me. In my California cabin, I wrote every morning and hiked every afternoon, up the mountains to the East and along the rocky coast, farther than I had ever hiked, one exhausted foot after the other. 'Heartache is an Uphill Climb' began in the red mud on one particularly impossible incline. Once, having hiked farther than I realized, dark fell on me. The white lilies in a meadow began to glow like evening dresses as the moon rose in the changing light. 'Proclamation Bones' is a tribute to that unexpected beauty, to nature's secret nightlife. On return to NYC with Raymond Carver's All of Us: The Collected Poems in hand, his poem 'My Boat' leapt up like lightning; it wanted to be sung. In a hungover moment of joy coming out of a subway, 'Something Came Over Me' seeded itself. And the heavy sadness of memory washing over me as I looked out at the East River became 'Eastern Light'.
Look, everyone knows that album bios are usually full of crap. How about this: This album weathered no doubt, Marlon Brando's ghost played bass and a fire-breathing dragon co-wrote the songs! Let's be clear about something – What made my time off special was that I had a regular writing routine. I was private. I followed my heart and my craft. The story of being a writer is the story of being devoted over a long time. What I hate most about bios is that they trade the small virtue of the writing life for pretending that artists and albums spring forth fully formed, trimming the tale to fit the spotlight. I'm more comfortable being real about things. I took my life and synthesized it through my writing with an intensity that no one but the birds saw but that hopefully you can feel. And life continued. Let the real story here be that there is love and beauty in the mess of dedication.