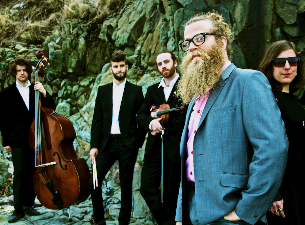 Wed
Mar
29
2017
8:00 pm
Ben Caplan & The Casual Smokers
It's time. It's time Ben Caplan gave his legions of fans what they've been waiting for these four long years. After criss-crossing Canada and the US, the Atlantic and Pacific Oceans, and some dozen countries across Europe, Caplan has finally stopped long enough to deliver the long- desired follow-up album to his 2011 debut, In the Time of the Great Remembering. Welcome then, to Birds with Broken Wings.
"I think it could have been time for a new album years ago," admits our hirsute hero. "but I wanted to take my time and honour the process. There was a lot to learn. I wanted to make an album that was complex but with room for strangers to find their way into it. I wanted to collaborate with people who inspire me and discover unexpected things. It takes time."
It turns out this could be the best record you'll hear all year. Caplan has moved his sound by leaps and bounds, his soul-fired, charismatic music exploding out in surprising new directions. Along the way, he joined forces with over 30 different musicians, a raft of unconventional acoustic instruments, and the hottest production/arranging/mixing team imaginable. The eleven songs that make up Birds with Broken Wings range from angry and edgy to dramatic and inspirational, to some of the most unconventional and beautiful work Caplan or anyone else has made. All your expectations of what a Ben Caplan album could be are met, but you'll also hear him like you never believed you would. You'll get that blustery, raspy, fire-and-brimstone force of nature, but then he'll woo you with rich and delicate vocals as lovely as any you've heard.