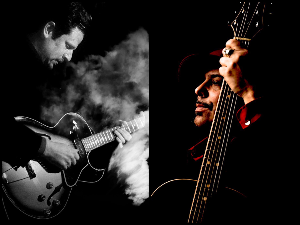 Dave Specter's long running Adventures in Guitar series continues on Sept. 27th with special guest Nicholas Tremulis.
By most standards, Nicholas Tremulis has lived something of a charmed life. The Chicago-born singer/guitarist has recorded with Keith Richards at the Rolling Stone guitarist's house, performed live with Rick Danko just days before the Band bassist's death in 1999 and organized a series of charity shows for Neon Street for Homeless Youth dubbed "The Waltz." The annual event, which took place at the Metro from 2000-'04, drew the likes of Billy Corgan, Alejandro Escovedo and Jeff Tweedy.
Nick combines a deep love of the blues along with soul, R&B and rock & roll musical passion.
A gifted slide guitarist who shines on both acoustic fingerstyle as well as electric lead and rhythm, Tremulis has been a powerful force on the Chicago music scene for 3 decades.
Dave and Nick first performed together at Buddy Guy's Legends following the funeral of their friend and musical hero Hubert Sumlin.
Specter's Adventures in Guitar series, which has been running at SPACE for the past seven years, has featured some of the finest talents in blues and jazz including Jimmy Johnson, Lurrie Bell, John Primer, Steve Freund, Jeff Parker, Donald Kinsey, Tad Robinson, Guy King, Billy Flynn, Nick Moss, Rick Holmstrom and Bobby Broom.
Dave's 10th album Message in Blue, released in 2014, was a first ballot Grammy nominee for Best Blues Recording and received rave reviews both nationally and internatioanlly.
Dave has been a fixture on the Chicago blues scene for the past 3 decades and has appeared on over 35 albums as a recording artist and producer.
"One of the few top-tier guitarists" - Downbeat
"A global ambassador of Chicago blues" - Chicago SunTimes
"Message in Blue...deeply satisfying, incendiary guitar playing" - Chicago Tribune