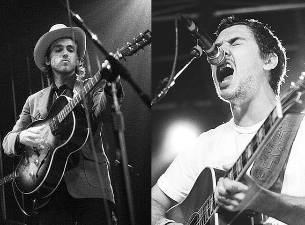 Like a character in a dreary West Coast short story by Raymond Carver, Nashville songwriter Andrew Combs moves through a hazy modern world, trying to find the meaning in life on his sophomore album, All These Dreams. "I sometimes find myself wondering what the hell I am doing with my life and what it all amounts to," Combs says, explaining the album's opening track, "Rainy Day Song," which sets the narrative tone for the album. "Although I don't know the answer to this, I believe it lies in the path I take, not the actual destination," says Combs. "I can't say whether I'm looking for a god, or love, or art, or all of the above, all I know is I am wading through some murky water trying to find the answer."
While the album may adhere to this darker internal script, its musical inspiration comes from vintage 1970s production: California-tinged AM Gold; the Laurel Canyon tones of Jackson Browne and The Eagles; and Paul Simon's Muscle Shoals-laced R&B funk. And with its sweeping string arrangements and sophisticated charm, the album evokes other earlier eras, like 1960s Hollywood or Roy Orbison-era Nashville Sound. Listeners may also hear the faint glimmer of male vocalists like Jim Reeves, Glen Campbell, Jimmy Webb, perhaps even Frank Sinatra.
All of it amounts to a huge step forward for the Nashville-based singer-songwriter, who released his debut album, Worried Man, in 2012, which American Songwriter named one of the year's best, while Southern Living praised Combs for being "well on his way to becoming a preeminent voice in his genre."
Charleston, South Carolina's SUSTO is the brainchild of Justin Osborne. It was born out of collaboration between Osborne & various colleagues including but not limited to Johnny Delaware, Wolfgang Zimmerman, Nicholas Scott Woodley & Camilo Miranda. These collaborations took place between 2011 & 2013 in Charleston & Havana. In early 2013 Osborne began performing solo in South Carolina & Cuba under the name of SUSTO. By August of that year SUSTO was performing as a full band. In addition to Osborne covering rhythm guitar, keyboards, & lead vocals, this line-up included Taylor McCleskey on drums, Eric Mixon on bass and Johnny Delaware on lead guitar & background vocals.