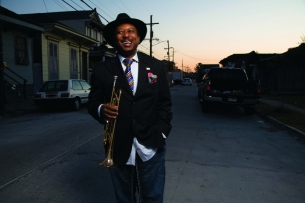 Fri
Aug
29
2014
8:00 pm
Kermit Ruffins & The Barbecue Swingers
TICKETS STILL AVAILABLE FOR KERMIT RUFFIN'S SHOW AT FITZGERALD'S ON SATURDAY, 8/30. CLICK HERE FOR TICKETS.
It takes all of 30 seconds.
Whether listening to a track on his newest CD, engaging him in conversation or hearing his voice on an answering machine message, one word springs immediately to mind to describe Kermit Ruffins.
Passion.
The 44-year-old New Orleans native lives it, plays it and sings about it, and nowhere is it more evident than when he discusses his craft the swinging, good-time jazz that lured him in as a teenager and continues to whet his appetite even three decades and 10 solo recordings later.
"You definitely pick that up from me. Thats definitely the way I live, man," he said. "From the time I wake up in the morning, Im itching for my next show to happen. It cant get here fast enough for me. I think thats the basic ingredient of New Orleans music. Our traditional music. Its really just happy music. A lot of other jazz players are very technical and concentrating on studying hard.
"We study hard, too, but what we most want to do is just get up there and experiment with the tunes that weve been playing for years and years."
At this point in his career, in fact, having fun at work is a prerequisite.
"Thats really the only way I can do it anymore," Ruffins said. "I do occasionally play a straight-ahead gig like a business meeting or a private party once in a while, where all theyre asking me for is background music, but Id rather get people up and dancing than just having dinner and listening. Id rather be in one of the New Orleans clubs, and Ill only take gigs in places that have a dance floor. There are places around the city that I played for years, but now I wont do it because nobodys dancing."
The mandate for fun in performing traces back to a musical role model Louis Armstrong.
Though he grew up in a decade when Michael Jackson, Bruce Springsteen and Madonna were at the top of late-teen playlists, Ruffins still vividly and emotionally recalled the moment when Armstrong a New Orleans icon became the be-all and end-all of his musical universe.
"When I started out playing, it was down on the streets in the French Quarter for tips, and wed sit and watch all the guys in suits going inside to play in the clubs," he said. "I was watching one day when, all of a sudden, I heard one trumpet on the juke box. I was 19 or 20 years old, and it was Louis doing a solo on When Youre Smiling.
"I was so overwhelmed that I went that day and bought all the CDs of his that I could find. I started to watch videos all the time, and from then on, whenever my friends got together to play, wed be drinking, eating barbecue and watching Louis Armstrong."
A visit earlier this year to "Satchmos" former home in New York since labeled a national landmark and transformed into a Queens College museum was similarly life-changing for Ruffins, who eagerly, and humbly, accepts any comparisons to his idol.