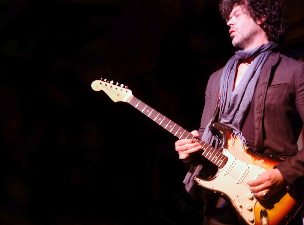 Doyle Bramhall II stands as one of the most distinctive vocalist, guitarist, composer and producer in contemporary music. Eric Clapton, with whom Bramhall has collaborated for more than a decade, cites the guitarist as one of the most gifted players he has ever encountered.
At 18, Bramhall II toured with Jimmie Vaughan's band The Fabulous Thunderbirds. Two years later he cofounded the blues-rock band Arc Angels with Charlie Sexton, Chris Layton and Tommy Shannon. In the aftermath of two critically acclaimed solo albums Jellycream and Welcome, Bramhall II's unparalleled skills as guitarist won the attention of both Roger Waters, who featured the guitarist on his In The Flesh tour, and Eric Clapton. Once recruited by Clapton, their association blossomed. Bramhall II toured with Clapton, collaborated on songs and left an indelible mark on albums such as Searching Robert J, Reptile and 2013's Old Sock, which he also co-produced.
Bramhall II has been in demand as composer, guitarist and producer, collaborating with such as artists as Sheryl Crow, Tedeschi Trucks, Elton John, Gary Clark Jr., Gregg Allman, Dr. John and many others.
Bramhall II is now completing his much-anticipated fourth solo album, launching the next chapter in an extraordinary musical journey.