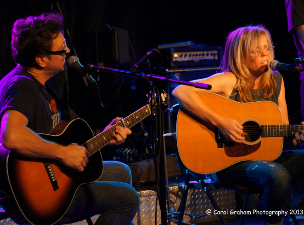 This intimate performance will take place in SPACE's beautiful recording studio. The performance will be recorded. Seating is limited.
Please note that no food is allowed in the studio.
Tickets are will-call only, and we will start checking people in 30 minutes prior to showtime.
Will Kimbrough is a singer, songwriter, award-winning guitarist, multi-instrumentalist, producer, performer and bandleader with a voracious appetite for every aspect of music. Born and raised in the deep south of the Alabama Gulf Coast, he ingested eclectic FM radio sounds and the music of nearby New Orleans. In his quest to develop his musical capacities to their fullest, Will Kimbrough has become a modern-day Renaissance Man.
Kimbrough's body of work reflects a lifetime of performing, writing and collaborating from more angles than Da Vinci's protractor. True to his search for universal truths, his profound musical knowledge and expert creations reflect years of learning the intricacies of folk, blues, gospel, country, rock'n'roll, punk rock and jazz.
With songs recorded by Jimmy Buffett, Little Feat, Jack Ingram, Todd Snider and others, Kimbrough's multidisciplinary approach has led to many desirable collaborations in the studio and on-stage with well-known artists, including Rosanne Cash, Guy Clark, Rodney Crowell, Steve Earle, Gomez, Emmylou Harris, the Jayhawks, Mark Knopfler, Buddy Miller, John Prine, Toumani Diabate, Kim Richey, Josh Rouse, Matthew Ryan, Billy Joe Shaver, Todd Snider, Mavis Staples, by fans as a way to explain his masterful performance on the guitar, Kimbrough was recognized in 2004 as the Instrumentalist of the Year by the Americana Music Association – an award that had previously been awarded three years in a row to Dobro ace Jerry Douglas.
-
Brigitte DeMeyer is a very discussed artist in the Americana movement. Her work has stirred accolades in national media. She has been tapped to open for Bob Dylan, among others, and has toured frequently at home and abroad. Brigitte DeMeyer writes songs as weavers thread tapestries, her most vivid colors being a Southern feel, a churchy soulfulness in her vocals, and a way with words that bears comparison to literature as easily as to the best contemporary lyrics. For DeMeyer, it is just a matter of time.
With album number six on the horizon for the acclaimed independent singer-songwriter, "Savannah Road" (due out in early 2014), DeMeyer has built a solid foundation with her first five albums, collaborating with giants of the Americana world-world class drummer/producer Brady Blade, Buddy Miller, Sam Bush, and most recently guitarist/songwriter Will Kimbrough, to name a few—and has shown herself to have a wonderfully natural feel for soul-steeped, blues-infused roots music, right down to her supple, peppery singing.
The daughter of Belgian and German immigrants, she was born in the Midwest, and at a young age moved to Southern California with her family, where entirely on her own, she started latching onto rootsy sounds, from Etta James, Mavis Staples and Sly Stone, to her discovery of The Allman Brothers, Steve Earle and Patti Griffin.