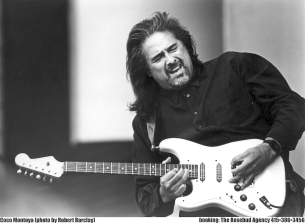 Long ago, Albert Collins took a young Coco Montoya aside and told him, "Son, just play what's in your heart." That has been Coco's mantra as he's toured the world cultivating fans with his intense music and warm personality.
The advice for Coco's Ruf Records debut is, "Son, just sing what's in your heart." From the opening riffs, Coco Montoya has shed the familiar and is ready to challenge himself and his audience. His first words unveil a voice that possesses as much soul as his guitar. That leap of faith, to trust in his voice, came at suggestion of Coco's friend and three time Grammy winning artist Keb' Mo'.
Working together, Keb' encouraged Coco's intimate vocal delivery to articulate the story. The world knows Coco as the blazing guitarist who nightly transforms genuine human emotions into eloquent notes that connect with the hearts of his audience. By developing Coco's vocal vulnerability backed by his aching guitar for the emotional reference, these songs connect faster than any records Coco has previously recorded.
"People know where I'm at with the guitar, but here the vocals are being concentrated on," said Coco. "I think it's healthy to take chances. It's being able to humble myself and take direction and guidance. As co-producers, Keb' and Jeff Paris have been working extensively with my vocals. I'm very proud of the performance they're getting outta me. At first it was real difficult and even a little frustrating, but they were very patient. Now, I'm startin' to hear it and I'm looking at my instrument in a different way."
Keb's job in the studio as co-producer was to sharpen Coco's singing while keeping his human compassion and gracious touch. "I want to make a record where the audience can get to know Coco as more then just a guitar player," said Keb'. "I think he has a great voice, but in the past, he's used his voice as a way to get to his guitar playing. Here, the vocals have to be taken seriously for what they are, the most important part of the record."
Though Montoya's one of the best finding emotion on the fretboard, he also possesses a soulful and expressive voice. At times, the quivering vibrato he wraps around words breathes a heartfelt vulnerability into a song's fragile pleas; other times his voice will steam roll like a heavyweight's knock-out punch.
From that starting point, Coco and Keb' began to search out songs to best fit Coco's voice and spirit, songs that spotlight Montoya's distinctive, aching tenor. They started with tunes wrapped in nostalgia of 45 records. Mary Wells' "The One That Really Loves You," The Penguins' "Hey Senorita," and Coco's most daring song, the Marvelettes's stylish sixties soul tune "Forever." They called in Rod and Honey Piazza to deliver the blues Coco loves on Buster Brown's "Fannie Mae."
But at the same time, Coco lives in the musical verses of today's fresh experiences. And as an artist, he always searches for new ways to express his own personal growth in a way to reach people's hearts.