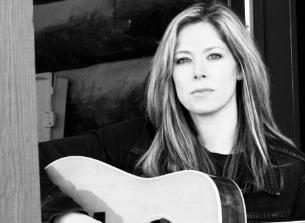 Nashville based singer/songwriter and national recording artist Alice Peacock has released five albums as a major label and independent artist. Her eponymously titled album Alice Peacock featured the hit "Bliss", a duet with John Mayer and her most recent CD, Myrick/Peacock is a duo project with long time collaborator Danny Myrick. Love Remains, Peacock's last solo album garnered rave reviews from multiple critics, including this blurb from BLURT Magazine -- "'The record's got pop, it's got twang, it's got pedal steel reveries, it's got deeply soulful meditations, with a little bit of boot-scooting Tennessee, a little bit of kissing-in-the-sunshine SoCal, and a whole lotta sassysexycool Peacock."
Many of Peacock's songs have appeared in TV shows including Because of Winn Dixie, Men In Trees, The Ghost Whisperer, Pepper Dennis, What I Like About You, Dawson's Creek and Smallville; feature films Because of Winn Dixie and Win A Date With Tad Hamilton and TV commercials such as Hershey's product launch of Bliss chocolate. In addition to touring extensively as a solo artist and with other artists including John Mellencamp, Aimee Mann, Toad The Wet Sprocket and Heart among others, Peacock has made many TV and radio stops including a special guest spot on the popular radio show A Prairie Home Companion.
Besides her musical pursuits, Alice is a socially conscious artist. She is a former trustee of the National Academy of Recording Arts and Sciences (GRAMMYS) as well as a past President of NARAS' Midwest Chapter. As trustee she testified before the Senate Judiciary Committee with Lyle Lovett on behalf of an artist performance rights for broadcast sound recordings. She is also the founder of Rock For Reading, an Illinois non-profit organization, which raises awareness and resources for reading and literacy programs through high profile music concerts. She and her husband Hugh live in Nashville with their three children Joe, and twins, Jack and Samantha Jane and their eternal puppy, Duke.
Alice is recently back on the road doing select shows after a two hiatus while giving birth to Jack and Sam. She will be performing in the Chicago and Minneapolis area in the late summer and fall and preparing to record a live album later this year.