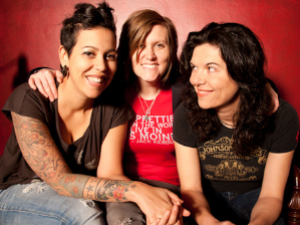 To say that Garrison Starr knows her way around the industry would be an understatement. Hailing from Hernando, MS, she released her major label debut, 18 Over Me, in 1997 for Geffen and the rest is history. Her career has taken her from rooms of 12 people (at which she received a standing ovation) to touring with her idols in amphitheaters and back again. But she's not just a road dog. Starr is a writer and performer with a knack for "marrying pop smarts and Americana grit with a voice of remarkable power and clarity"(gomemphis.com 2012).
For her seventh full length, Amateur, Garrison decided to do something different. She threw the idea of labels out the window and released this record on her own. Her follow up to 2010's live effort ReLive was completely fan funded via PledgeMusic.com and contains some of Starr's most intimate songs to date. Spanning 13 tracks and co-writers such as Kevin Devine and Mary Chapin Carpenter, Garrison delves into her personal life to take the listener on a journey of heartbreak, self discovery, and her own vision of perseverance.
-
Born and raised in Miami and based in Los Angeles, singer/songwriter Adrianne was interested in music from an early age. Self-taught on piano and vocals, she was inspired to write her own songs after discovering the Indigo Girls when she was in high school and getting her first guitar at age 17. After graduating from the Berklee College of Music with a degree in music production and engineering, Adrianne signed a publishing deal with Lionel Conway and relocated to the West Coast. Her first album, For Adeline, was released in 2000 and followed four years later by 10,000 Stones. Her third album, Down to This, was released in 2005, and her fourth, Sweet Mistake, debuted in 2006. Adrianne self-released a covers EP entitled Boy Songs in 2007.
-
We've passed the point where it's news that Maia Sharp is a giant among her music industry peers. Those who write the songs, the singers who scout out the best material for themselves and major artists who seek the stimulus of work with their most creative colleagues, have already placed her name at the top of their list of collaborators.
The secret is out among the public as well. Beginning with Hardly Glamour in 1997, Sharp has released four solo albums and one trio album with Art Garfunkel and Buddy Mondlock, each garnering critical recognition, and built her following through touring on her own as well as opening for such headliners as Bonnie Raitt, Keb' Mo', Patty Griffin, Art Garfunkel and Jonatha Brooke.

In spotlights, on national radio and television, penning songs for Raitt, The Dixie Chicks, Trisha Yearwood, Cher and many more, in writing sessions with Carole King, Lisa Loeb, Jules Shear and David Wilcox, behind studio consoles producing for Garfunkel, Edwin McCain and others, Sharp has proven her ability to excel wherever talent manifests itself in music. One of the few milestones she had yet to pass was to apply all she has learned by producing an album of her own, on her own. Until now.
With Change the Ending, from Blix Street/Crooked Crown Records, Sharp brings the facets of her career together fully, for the first time. Writing or co-writing all 11 tracks, she also debuts as her own producer, taking the reins in every avenue of conceiving, recording and completing the album.