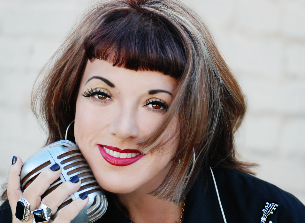 Candye Kane believes spirituality is a personal thing and that sharing one's own spiritual beliefs is often inappropriate and sometimes, even downright dangerous. Yet, she jumps up on that soapbox almost nightly, to preach and shout and belt out blues songs to inebriated patrons in tiny, smoke scarred honky tonks. She croons her songs to well-heeled swing dancers on beautiful hard wood floored ballrooms. Candye Kane believes in YOU. She believes we all have ultimate power inside us now and that the universe makes no mistakes. She doesn't view a stereotypical patriarchal God seated on a velvet throne in flowing white robes granting wishes and deciding who will live or die. Candye believes that the universe, or your higher power or whatever you feel comfortable calling it, has already made decisions and already knows what you are capable of, long before you take your first step or have your first all night cry over the rejection of a girl or boy at school. The universe has already strengthened you for the most radical endurance race of all…LIFE.
In 1983, Candye was a teenage mom from the poor side of Los Angeles, it was welfare and food stamps by day, hard drug use and nude modeling by night, while at the same time yodeling and moshing alongside groundbreaking punk bands like the Circle Jerks, X and FEAR in Hollywood's underground music scene. To help pay the bills she appeared on the covers of Hustler and High Society, whilst peddling her cassettes of original hillbilly music to anyone who would listen along the Venice, CA Boardwalk.
It didn't take long before Candye signed a management deal with The Halsey Agency, the first agency to promote American music behind the Iron Curtain, she became close friends with Dave Alvin, Marty Stuart and Dwight Yoakum who wisely encouraged her to always be honest about her colorful past. "Be yourself Candye. It's what your good at" said Yoakum.
It was advice well taken. Candye went on to record twelve CD's on a myriad of record labels including Seymour Stein's Sire Records and well-respected independent label Rounder Records. She built a worldwide reputation by touring 250 days a year, wrote songs that appeared on television and in movies, landed appearances & performances on television shows like Penn and Teller, Queen Latifah, Rosanne & Donny and Marie, she's collaborated with numerous artists that include Texas Women in the Blues with Lou Ann Barton and Miss Lavelle White as well as The Blues Caravan Series with Sue Foley and Ana Popovic, for which she wrote the theme song. She also penned and performed a stage play about her life called "The Toughest Girl Alive" to sold out audiences and at the New York Fringe Festival. Candye has been nominated for five National Blues Awards and has won the Best Blues Band Award in her adopted hometown of San Diego, CA a record nine consecutive times, all while raising two sons to adulthood.
-
Canadian singer/guitarist JW-Jones tours constantly, and is known for his high-energy show that keeps getting hotter!