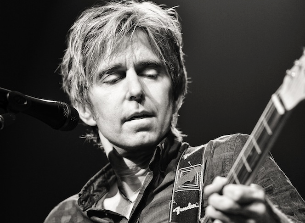 Eric Johnson's stature as one of the premier guitar players in contemporary music is his artistic trump card, backed by a Grammy Award and five nominations, platinum album, Top 10 hits like "Cliffs Of Dover," praise from critics and the esteem of his peers. But the full hand of his talents marks him as well as a gifted songwriter, dynamic live performer, singer, pianist, song interpreter, and creator of a rich and diverse musical legacy.
His myriad and distinctive musical gifts are vividly evident on Johnson's aptly titled new album, Up Close, released on his own Vortexan Music label via EMI Distribution. The new 15-track disc finds the noted master craftsman cutting loose, roaming through variations on the rock, blues, pop, country and jazz all found at the core of his sound, pushing the dynamic range of his artistry, and mixing it up with such friends and peers as guitarists Jimmie Vaughan and Sonny Landreth and guest singers Steve Miller, Jonny Lang and Malford Milligan.
"I decided to let go a bit and allow things to happen and just go with the flow," explains Johnson of his approach to the album. "I think that's a direction that works better for any artist, and especially for me. I like my work to have a high proficiency, but I also wanted to go for the energy and magic of the performances."
That vitality and vivid musicality brims from such hook-filled numbers as the hard-rocking instrumentals "Fat Daddy" and "Vortexan" and the driving vocal song "Brilliant Room" (sung by Milligan). "Gem" is splashed with bright and painterly six-string colors, "Soul Surprise" finds Johnson weaving a picturesque tapestry of both his guitar and piano gifts, and "Arithmetic" summons up a swirling and spectral kaleidoscope of guitars, keyboards and Johnson's singing.
His early years and influences are explored on the Mike Bloomfield/Buddy Miles-composed blues song "Texas" (from the 1968 Electric Flag album A Long Time Comin') on which Miller sings and Johnson's and Vaughan's guitars engage in stirring interplay, and "Austin" (sung by Lang), which looks back to his teens in his hometown as a budding player and avid music fan who would be allowed to slip underaged into music nightclubs and "go sit in the back and listen to bands." "On The Way" is a delightful Texas meets Tennessee twang romp, and "A Change Has Come To Me" opens with a six-string nod to Jimi Hendrix (a prime Johnson influence) that carries through the track as it burgeons into a celebration of the pleasures of the deep and soulful groove. Interstitial instrumental snippets like the spellbinding Indian music-flavored opener "Awaken" and the dreamlike "Traverse" and "The Sea And The Mountain" plus "Change (Revisited)" weave the collection together. And Johnson caps the CD with the uplifting grace note of "Your Book" on which he and Landreth interweave their playing (including Johnson's stately piano work) with emotive elegance.