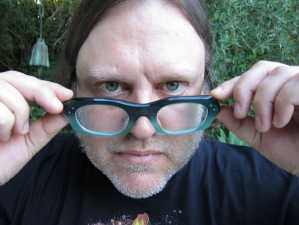 MATTHEW SWEET'S AUDACIOUS, CAPTIVATING MODERN ART
By Bud Scoppa
During a career that stretches back to the mid-'80s, Matthew Sweet has never followed trends, though his landmark 1991 album Girlfriend was responsible for starting one—its bone-dry, caterwauling sonics opening up a wild and picturesque new terrain for restless singer/songwriters to inhabit and explore. Two decades later, Sweet has once again swung for the fences—and connected—with the boldly experimental yet still deeply personal Modern Art.
Defiantly unorthodox, but often playfully so, Modern Art is a stealth album, embedded with half- hidden hooks lurking in its recesses, just out of focus, waiting to be discovered. Nope, this is not a one-listen album, but a progressive deepening has always characterizes the most memorable longplayers, whose authors rarely put all their cards on the table right away. Not that there aren't some instant grabbers here: "She Walks the Night" captures the Byrds of "Eight Miles High," while "Ladyfingers" stomps along with the authority of T.Rex, and the tortured "My Ass Is Grass" could serve as the belated follow-up to "Sick of Myself," the hit single from Sweet's 1995 LP 100% Fun. At the other extreme are provocative, soul-deep, virtually unprecedented tracks like "Oh, Oldendaze!," "Late Nights With the Power Pop," "Modern Art," "Evil by Design, Goodbye Nature," "At the Screen (With the World Flowing In)" and "Nowhere."
For this record, Sweet discarded his normal process of laying down ideas as they came to him and shaping them into songs. Instead, he allowed those spontaneous kernels of music dictate the direction of each piece. Rather than bringing his left brain into the process, he put his right brain in charge and simply let it rip.
"In the past, I'd make deliberate changes of structure and normalize things," says Sweet. "But this time, I wanted to make it abstract but still human and natural. I had a lot of tapes of me coming up with ideas for songs, but I hadn't fleshed them out—just raw melodies, stream-of- consciousness lyrics or me humming along, that sort of thing. So with the first song, which became 'Oh, Oldendaze,' I took the exact structure of me making up the song—I'd do something for a while, and then I'd go to some other section of chords—and I decided have that preordain the structure, keeping that original raw idea exactly the way it was. That approach gave it a super-personal feel that was really melodic and musical but still different, so I ran with it. And in an odd way, this record feels more like me than anything I've done."