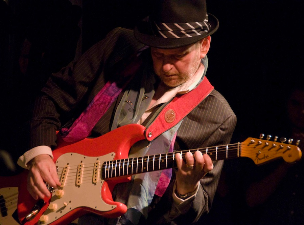 Fri
Aug
15
2014
8:00 pm
Ronnie Earl & The Broadcasters
Ronnie Earl, Guitar
Legendary Blues guitarist Ronnie Earl is a two-time W.C. Handy Blues Award winner as Guitar Player of the Year. Earl's discography includes acclaimed albums on Stony Plain Records, Black Top, Bullseye Blues, Verve,and Telarc. His 1996 Bullseye Blues release, Grateful Heart: Blues and Ballads, won Downbeat Magazine's Blues Album of the Year, and in 2004 Earl's Hey José won the Best Blues/R&B Song at the 3rd Annual Independent Music Awards. In 2008, Ronnie Earl and the Broadcasters celebrated 20 years as a band. In August 2010, Ronnie Earl and the Broadcasters released the album Spread the Love to wide critical acclaim, and blues fans eagerly awaited their next release, Just for Today, in 2013.
Dave Limina, Hammond B3 and piano
Dave Limina is a Professor in the Piano Department at Berklee College of Music, where he received the Most Valuable Contribution to the Performance Curriculum Award in 2001 for his work in creating and developing the Hammond organ program. As a keyboardist, composer, and arranger, Dave has performed with Gloria Estefan, Duke Robillard, Courage Brothers, Mark Murphy, Lori McKenna, Mighty Sam McClain, Kenny Neal, Catie Curtis, Freedy Johnston, Martha Reeves, Brooke Benton, Toy Caldwell, Felix Cavalieri, Steve Forbert, and The RB Funkestra with Fred Wesley and Eric Krasno. Also Grammy winning songwriters, Robert Lee Castleman, Gary Nicholson, Paula Cole, Mark Walker and Steve Leslie. He has been the keyboardist/conductor for the first national touring company of the Broadway musical Rent. He received Boston Music Award nominations for his work with Courage Brothers, Ronnie Earl, and Mighty Sam McClain. He played keyboards on Michelle Willson's Wake Up Call, which was a Boston Music Awards winner in 2001 for "Best Blues Album". He is the author of "Hammond Organ Complete" (Hal Leonard), and the instructional video/DVD "Accelerate Your Keyboard Playing" (Rittor Music).
Lorne Entress, Drummer/Producer
A long-time Broadcaster and veteran of the New England music scene, Lorne Entress has provided the backbeat for many an artist including Big Al Anderson, Junior Wells, Freedy Johnston, Susan Tedeschi, Junior Watson, Ellis Paul, Charlie Musselwhite, Nicole Nelson, Erin McKeown, Henry Butler, Johnny Adams, Mighty Sam McClain, Vance Gilbert and many others. In addition to producing the Ronnie Earl and the Broadcasters CD Hope Radio, Lorne has also produced numerous records for other artists including Lori McKenna, Mark Erelli, Hayley Reardon, and Catie Curtis.
Jim Mouradian, Bass
Jim Mouradian has been a member of Ronnie Earl and the Broadcasters since 2000. Jimmy grew up immersed in a family of classically trained musicians, picked up a bass in junior high and has been playing ever since. He is also a legendary luthier, who has designed his own line of Mouradian guitars, and handles every guitar he works on with meticulous detail. He and his son, Jon, operate Mouradian Guitar in Winchester, MA, where they are known as "guitar gods" and "guitar repair wizards," although Jimmy insists that his favorite role is that of being a dad and grandfather.