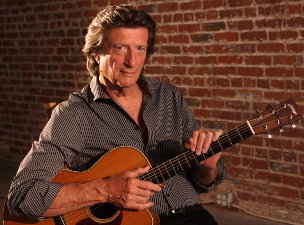 Honing a synthesis of folk and blues for 50 years, Chris Smither is truly an American original. Having released a series of timeless records since the early 1970s, Chris' newest release, Still On the Levee (release date: July 22, 2014), is a career-spanning retrospective double CD. Recorded in New Orleans with studio-mates he calls The Motivators, Still On the Levee plays host to special guests including Allen Toussaint and Loudon Wainwright III. The record highlights the vast catalog of an American music master. Reviewers and fans from around the world agree that Chris is a profound songwriter, a blistering guitarist and, as he puts it, a 'one-man band to the bone.' Chris melds the styles of his two major influences, Lightnin' Hopkins and Mississippi John Hurt, into his own signature guitar sound. His music continues to draw deeply from the blues, American folk music, modern poets and humanist philosophers. He may be best known for writing "Love You Like A Man" which Bonnie Raitt and, more recently, jazz great Diana Krall have covered. His music has been covered by numerous artists and featured in soundtrack albums, independent film, television and commercials
New York Times: WIth a weary, well-traveled voice and a serenely intricate finger-picking style, Mr. Smither turns the blues into songs that accept hard-won lessons and try to make peace with fate.
-
The Good Stuff, Peter Mulvey's fifteenth record, is a collection of standards which promptly rejects the accepted definition of "Standard" in favor of a more vivid, open approach. The music of Tom Waits is right there with Duke Ellington; Willie Nelson next to Thelonious Monk; Jolie Holland juxtaposed with Bill Frisell. Mulvey (along with his band, the Crumbling Beauties) address each tune with a true artist's touch. His mirthful, gravelly baritone is front and center from moment one, and every track is a master class in restraint, phrasing, and commitment.
Twenty-odd years on the road, performing songs from his own catalog and from a vast, varied, and deep well of classic and obscure covers, has prepared Mulvey to deliver this collection. Night after night, the process of divining the heart of a song, being alert to where the moment can lead, has shaped him as an artist. To each rendition, he brings the soul of a singer, a light touch in a heavy world.