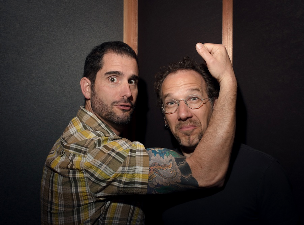 Following up on last year's critically hailed Not Getting Behind Is The New Getting Ahead, guitarist Charlie Hunter and drummer Scott Amendola return with PUCKER, a lean and sinewy session marked by fierce grooves, caressing melodies, and startlingly intuitive interplay. While Not Getting Behind Is The New Getting Ahead focuses on Hunter's compositions, PUCKER focuses on Amendola's compositions!
"After 20 years of constant writing I figured it was time to take a break and explore the guitar again," Hunter says. "I told Scott, if you've got enough music together we could make a record of your tunes. What I like is that it really fits right into what we've been doing all along, simple music with a lot of space. Scott's not burdened by trying to be jazzy. He's a drummer who's really listening to everything with big ears. He was already driving the bus."
"I think the duo setting works so well because we meet in the middle, and there's such a wide range of things we can call on. What I love about Scott is that I know he's not going to play the obvious things when I call on something, and I know it's going to groove.